Lidocaine HCl / Tetracaine HCl Cream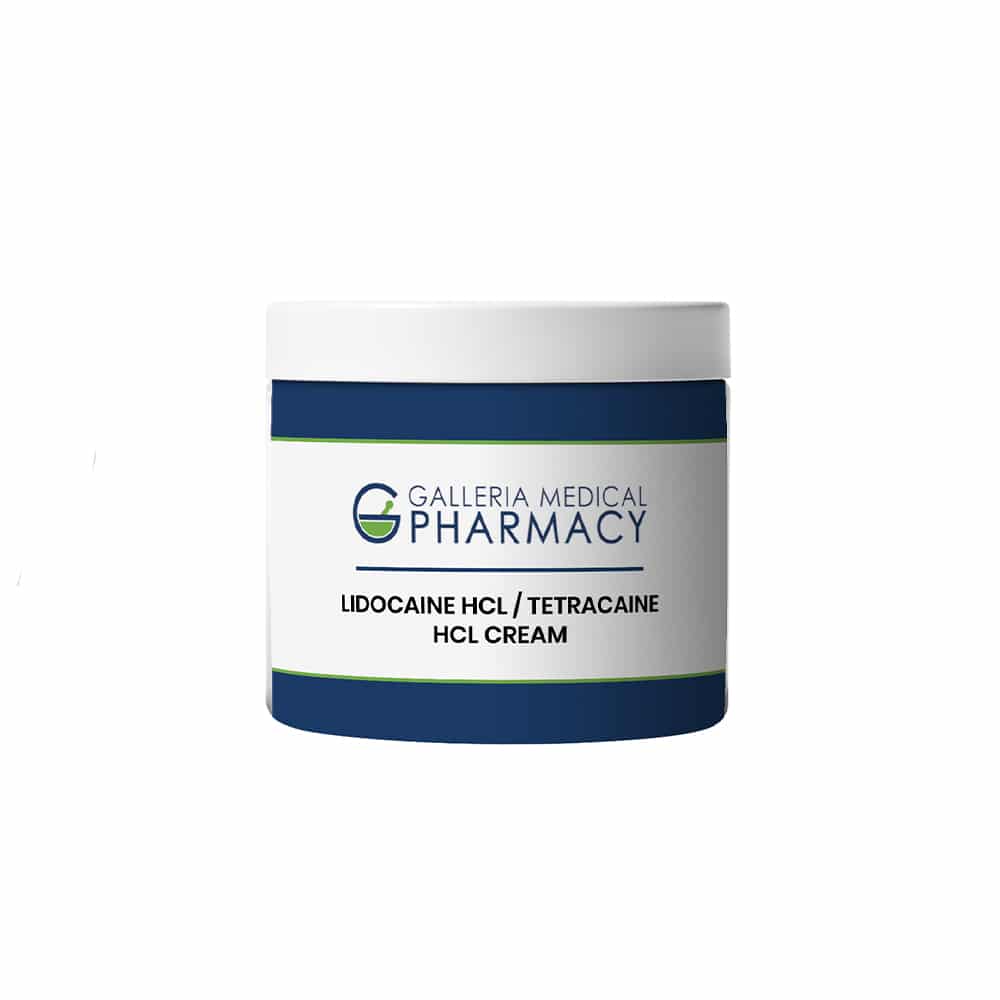 Overview
Lidocaine / Tetracaine Cream is a combination of prescription drug products that are commonly used topically as local anesthetics prior to minor dermatological procedures (e.g., Botox® injections, chemical peels, dermabrasion, facial fillers, laser hair removal, microneedling).
Lidocaine
Lidocaine is a commonly used topical anesthetic, with an onset of action of about four minutes. It works by blocking sodium channels to stop local neurons from signaling the brain.
Tetracaine
Tetracaine is another topical anesthetic. It is longer acting but also takes longer to work than lidocaine. It works by changing the function of ryanodine receptors that control the release of intracellular calcium.
This preparation is intended for the short-term topical use to small areas of in-tact skin. It should not be used in anyone with ester local anesthetic hypersensitivity or para-aminobenzoic acid, PABA hypersensitivity. The preparation is also contraindicated for use in patients with cholinesterase and pseudocholinesterase deficiencies. Lidocaine / Tetracaine Cream should not be occluded or applied to large areas of inflamed tissue (e.g., abrasions, atrophy, burns) since systemic absorption or toxicity can occur. Care should be taken to ensure the maximum dose of Lidocaine / Tetracaine Cream is not exceeded during application. For these reasons, this formulation best administered under professional supervision by a healthcare practitioner prior to dermatologic procedure.1-7
How Supplied
Patients that do not tolerate benzocaine and would benefit from the topical administration of Lidocaine / Tetracaine Cream may be prescribed this compounded preparation as determined by a health care practitioner. Common formulations prepared at Galleria Medical Pharmacy include but are not limited to:
Lidocaine 23% / Tetracaine 7% Cream
As per FDA regulations, compounds prepared by a pharmacy are not intended for office use (e.g., office stock of a drug that is administered to multiple patients). As such, this preparation requires a prescription, which is then administered to the specified patient by a healthcare practitioner at their practice.
Storage
Store this medication at 68°F to 77°F (20°C to 25°C) and away from heat, moisture and light. Keep all medicine out of the reach of children. Throw away any unused medicine after the beyond use date. Do not flush unused medications or pour down a sink or drain.
Reference
Cetacaine Topical Anesthetic (benzocaine; lidocaine; tetracaine) package insert. Pennsauken, NJ: Cetylite Industries, Inc.; 2013 Apr.
Exactacain Topical Anesthetic Spray (benzocaine; lidocaine; tetracaine) package insert. Cumberland, RI: Onset Therapeutics; 2008 Sep.
One Touch Advanced Topical Anesthetic Gel (benzocaine; lidocaine; tetracaine) package insert. Odessa, FL: Hager Worldwide; 2009 Jun.
Moore TJ, Walsh CS, Cohen MR. Reported adverse event cases of methemoglobinemia associated with benzocaine products. Arch Intern Med 2004;164:1192-5.
FDA Drug Safety Communication: FDA continues to receive reports of a rare, but serious and potentially fatal adverse effect with the use of benzocaine sprays for medical procedures. Retrieved April 7, 2011.
FDA Drug Safety Communication: Reports of a rare, but serious and potentially fatal adverse effect with the use of over-the-counter (OTC) benzocaine gels and liquids applied to the gums or mouth. Retrieved April 7, 2011.
National Institutes of Health (NIH). Tetracaine monograph. LactMed: Drug and Lactation Database. Available at https://toxnet.nlm.nih.gov/cgi-bin/sis/search/f?./temp/~hiRQ6t:1. Accessed March 28th, 2012.
Compounding Pharmacy Statement
This preparation is compounded with drug components whose suppliers are registered with the FDA. While Galleria Medical Pharmacy adheres to USP <795> guidelines and applicable state and federal regulations to meet the required quality standards, the statements made regarding this preparation have not been evaluated by the FDA for safety or clinical effectiveness. As such, this preparation is not intended to diagnose, treat, cure, or prevent any disease. For inquiries concerning this preparation, please contact (504) 267-9876.