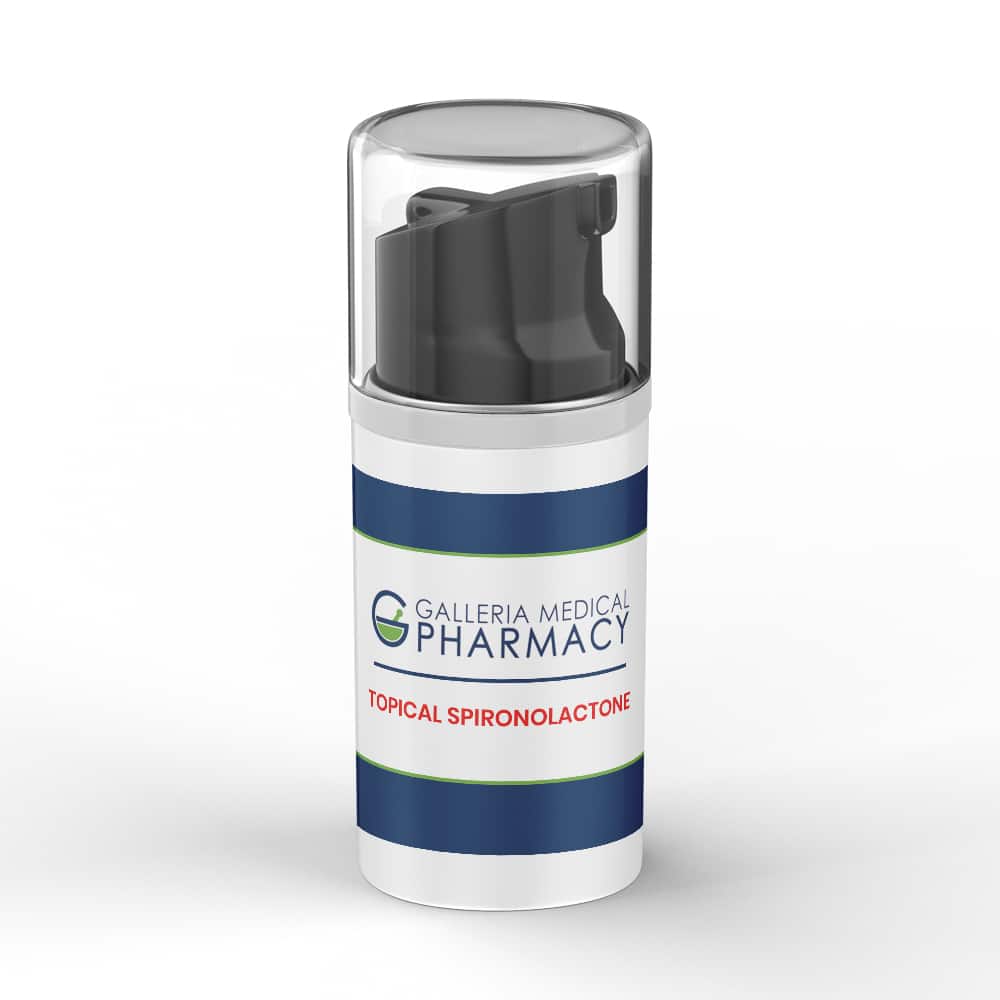 Overview
Hormonal-pattern acne often presents as deep inflammatory papules on the lower half of the face and upper part of the neck. Spironolactone has been used topically (and orally) to treat hormone-related acne and works by targeting androgen-stimulated sebaceous activity of the skin directly. A side benefit of spironolactone is that the oral formulation may reduce the presence of hirsutism. As such, menopausal and peri-menopausal women who are not suffering from acne but complain of facial hair may find relief with topical spironolactone.
Spironolactone is sometimes used concurrently with oral contraceptives in women to decrease menstrual side effects and increase the effectiveness of both drugs. Topical spironolactone is typically applied twice daily and it is expected to take between four to eight weeks to notice the effects. While oral spironolactone can cause menstrual irregularities, nausea, fatigue, and other symptoms, these effects are usually minimal when applying spironolactone topically. The side effect profile of topical spironolactone is usually reduced to mild redness and irritation to the area applied. The topical formulation is also known to have an unpleasant odor.1-5
Indications
Studies have shown topically applied spironolactone is useful for the treatment of hormone-related mild to moderate acne.2, 3
How Supplied
At this time, this preparation is not commercially available in the United States as a topical product and must be compounded for patients that would benefit from its administration as determined by a prescriber. Common formulations prepared at Galleria Medical Pharmacy include but are not limited to:
Spironolactone 5% Gel
Spironolactone 5% Cream
Storage
Store this medication at 68°F to 77°F (20°C to 25°C) and away from heat, moisture and light. Keep all medicine out of the reach of children. Throw away any unused medicine after the beyond use date. Do not flush unused medications or pour down a sink or drain.
Reference
Berardesca E, et al. Topical spironolactone inhibits dihydrotestosterone receptors in human sebaceous glands: an autoradiographic study in subjects with acne vulgaris. International Journal of Tissue Reactions. 01 Jan 1988, 10(2):115-119.
Afzali BM, et al. Comparison of the efficacy of 5% topical spironolactone gel and placebo in the treatment of mild and moderate acne vulgaris: a randomized controlled trial. J Dermatolog Treat. 2012 Feb;23(1):21-5.
Attwa EM, et al. Efficacy and safety of topical spironolactone 5% gel versus placebo in the treatment of acne vulgaris. Egyptian Journal of Dermatology and Venereology. 2019;39(2):89-94.
Brown, J., Farquhar, C., Lee, O., Toomath, R., & Jepson, R. G. (2009, April 15). Spironolactone versus placebo or in combination with steroids for hirsutism and/or acne. Cochrane Database of Systematic Reviews, (2).
Sachdeva, S. (2010). Hirsutism: Evaluation and treatment. Indian Journal of Dermatology, 55(1), 3-7.
Compounding Pharmacy Statement
This preparation is compounded with drug components whose suppliers are registered with the FDA. While Galleria Medical Pharmacy adheres to USP <795> guidelines and applicable state and federal regulations to meet the required quality standards, the statements made regarding this preparation have not been evaluated by the FDA for safety or clinical effectiveness. As such, this preparation is not intended to diagnose, treat, cure, or prevent any disease. For inquiries concerning this preparation, please contact (504) 267-9876.