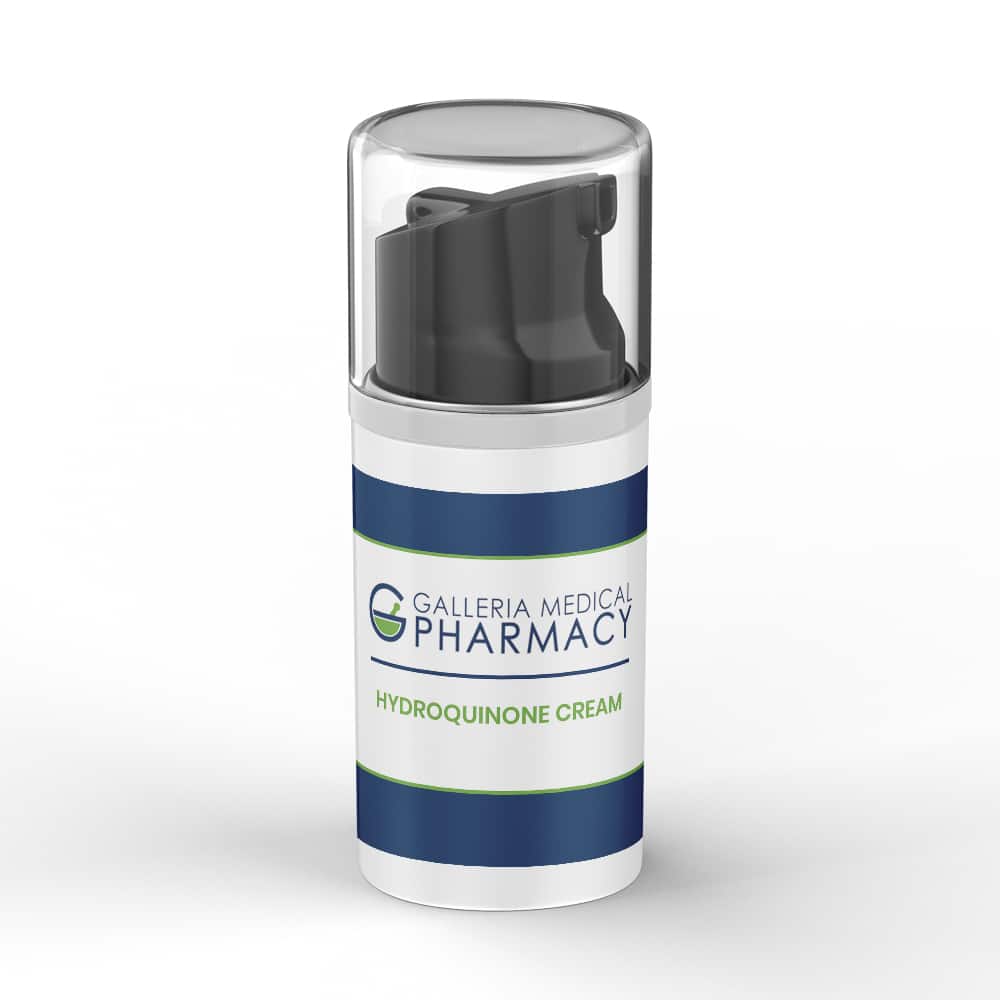 Overview
Hydroquinone cream, often referred to as a skin bleaching cream, is a reversible depigmenting agent. When applied topically to hyperpigmented skin conditions such as melasma, freckles, and lentigines, hydroquinone temporarily lightens the area. Hydroquinone works by blocking the enzyme responsible for melanin formation in melanocytes that results from melasma, acne and sun damage. Exposure to sunlight or ultraviolet light causes re-pigmentation of bleached areas and therefore hydroquinone requires the concomitant use of sunscreen. Caution and awareness must be raised in using hydroquinone as it may cause unwanted skin lightening if used improperly.1
Indications
Studies have shown topically applied hydroquinone is useful for the treatment of hyperpigmentation.1
How Supplied
Commercially-Available Hydroquinone Options
Hydroquinone is available commercially over-the-counter as a 2% cream. Hydroquinone 4% cream was formerly available over-the-counter, but in 2006 it was reclassified as a prescription-only product.
Compounded Hydroquinone Options
Patients that would benefit from the administration of alternative concentrations of hydroquinone may opt for this compounded preparation as determined by a prescriber. Common formulations prepared at Galleria Medical Pharmacy include but are not limited to:
Hydroquinone 6% Cream
Hydroquinone 8% Cream
Storage
Store this medication at 68°F to 77°F (20°C to 25°C) and away from heat, moisture and light. Keep all medicine out of the reach of children. Throw away any unused medicine after the beyond use date. Do not flush unused medications or pour down a sink or drain.
Reference
Nu-derm (hydroquinone) cream package insert. Long Beach, CA: OMP, Inc.; 2012 Sep.
Compounding Pharmacy Statement
This preparation is compounded with drug components whose suppliers are registered with the FDA. While Galleria Medical Pharmacy adheres to USP <795> guidelines and applicable state and federal regulations to meet the required quality standards, the statements made regarding this preparation have not been evaluated by the FDA for safety or clinical effectiveness. As such, this preparation is not intended to diagnose, treat, cure, or prevent any disease. For inquiries concerning this preparation, please contact (504) 267-9876.