Hydroquinone / Tretinoin / Hydrocortisone / Kojic Acid Cream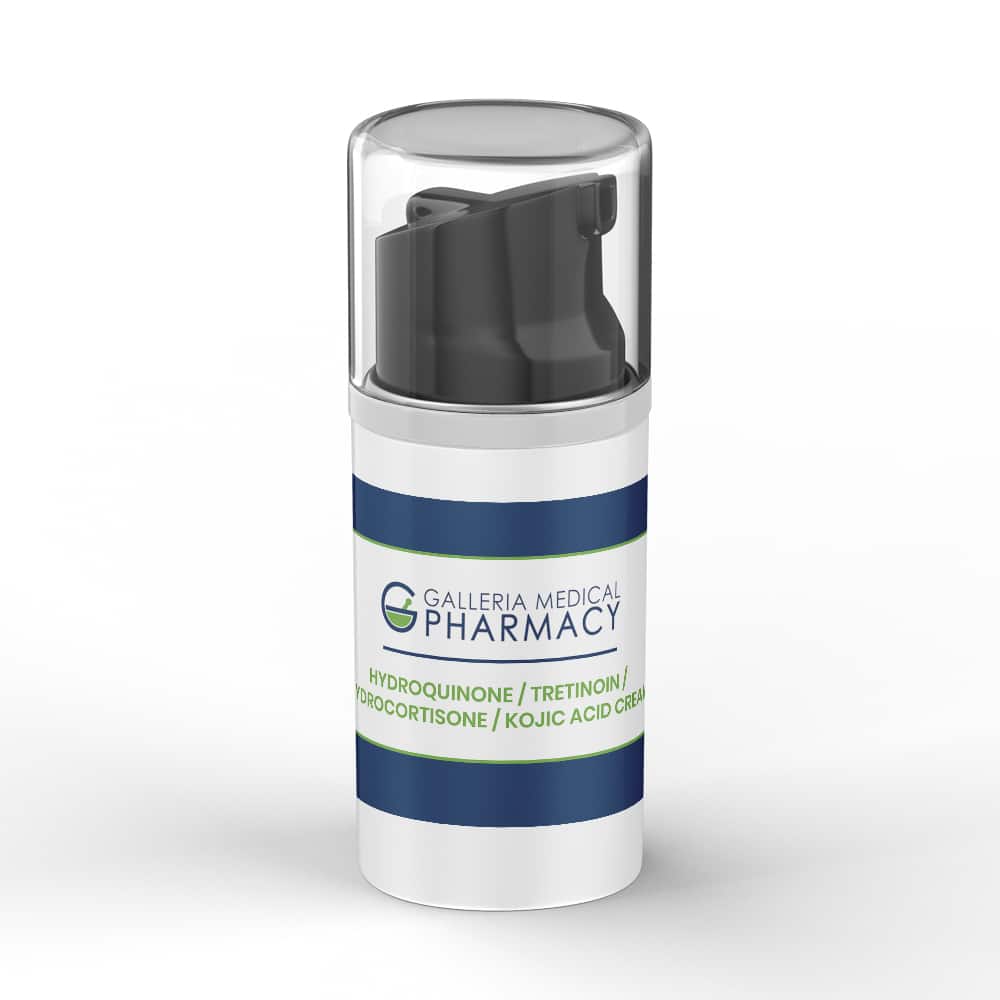 Overview
Hydroquinone / Tretinoin / Hydrocortisone / Kojic Acid Cream is a combination of prescription and over-the-counter drug products that have been formulated into a hypoallergenic cream. This formulation is also known as our melasma continuance cream and is a key component of the Melasma Kit. It is difficult to find a single active ingredient that is effective in treating hyperpigmentation (e.g., brown spots, age spots). Combining multiple ingredients into one cream may increase patient compliance with treatment and improve the condition. The active ingredients in this preparation work synergistically to decrease the presence of hyperpigmentation and increase cell turnover. The preparation is applied to the affected area once to three times daily and works by decreasing the formation of melanin. Other side benefits of the compound may include the reduction of fine lines and wrinkles, the lessening of acne, and the decrease appearance of scars and inflammation.
Hydroquinone
Hydroquinone is a reversible depigmenting agent. When applied topically to hyperpigmented skin conditions such as melasma, freckles, and lentigines, hydroquinone temporarily bleaches the area. Hydroquinone works by blocking the enzyme responsible for melanin formation in melanocytes. Exposure to sunlight or ultraviolet light causes re-pigmentation of bleached areas and therefore hydroquinone requires the concomitant use of sunscreen.1
Tretinoin
Tretinoin, also called all-trans-retinoic acid (ATRA), is a naturally occurring derivative of vitamin A (or retinol) that helps to regulate cell proliferation and differentiation. Tretinoin when applied topically is used to treat mild to moderate acne (e.g., grades I-III), photodamaged skin, and keratinization disorders such as ichthyosis and keratosis follicularis. Topical tretinoin is effective in reducing fine lines, hyperpigmentation, roughness, and laxity associated with photodamaged skin. It clears the skin of blemishes and discolorations by increasing cell turnover.2, 3, 4
Hydrocortisone
Hydrocortisone is a naturally-occurring adrenal steroid hormone that exhibits anti-inflammatory, antipruritic, and vasoconstrictive properties. Topically, it soothes the skin and prevents irritation of the ingredients of the formulation. Early anti-inflammatory effects of topical corticosteroids include reversing vascular dilation and permeability. Later inflammatory processes such as capillary production, collagen deposition, and scar formation also are inhibited by corticosteroids. Clinically, these actions cause decreased swelling, redness, itching, plaque formation and scaling of the affected skin. Topical hydrocortisone is considered low potency and is the safest for long-term use in treating mild to moderate corticosteroid-responsive dermatoses.5, 6, 7
Kojic Acid
Kojic acid is a by-product in the fermentation process of manufacturing sake (Japanese rice wine). It is produced naturally by several species of fungi and acts as a chelating agent. Kojic acid when applied topically is a mild inhibitor of the formation of pigment in melanocytes and has the potential use as a chelating agent for wound healing and prevention of photodamage. Since it oxidizes easily in air, kojic acid is best packaged into an airless pump bottle. Clinical studies are limited, however no adverse events have been reported to the FDA at this time.
How Supplied
Tri-Luma is a commercially available topical cream containing hydroquinone 4%, tretinoin 0.05%, and fluocinolone acetonide 0.01%.8 Patients that would benefit from the administration of alternative concentrations of hydroquinone and/or tretinoin as well as those that may need the addition of kojic acid or a less potent steroid may opt for this compounded preparation as determined by a prescriber. Common formulations prepared at Galleria Medical Pharmacy include but are not limited to:
Hydroquinone 6% / Tretinoin 0.1% / Hydrocortisone 1% / Kojic Acid 4% Cream
Hydroquinone 8% / Tretinoin 0.1% / Hydrocortisone 1% / Kojic Acid 4% Cream
Storage
Store this medication at 68°F to 77°F (20°C to 25°C) and away from heat, moisture and light. Keep all medicine out of the reach of children. Throw away any unused medicine after the beyond use date. Do not flush unused medications or pour down a sink or drain.
Reference
Nu-derm (hydroquinone) cream package insert. Long Beach, CA: OMP, Inc.; 2012 Sep.
Altreno (tretinoin lotion) package insert; Bridgewater, NJ: Valeant Pharmaceuticals North America LLC; 2018 Aug.
Renova 0.02% (tretinoin cream) package insert; Bridgewater, NJ: Valeant Pharmaceuticals North America LLC; 2013 Jun.
Fisher GJ, Wang Z, Datta SC, et al. Pathophysiology of premature skin aging induced by ultraviolet light. N Engl J Med 1997;337:1419-28.
Das A and Panda S. Use of topical corticosteroids in dermatology: an evidence-based approach. Indian J Dermatol. 2017;62(3):237-50.
Hydrocortisone 2.5% cream and ointment package insert. Bronx, NY: Perrigo; 2012 Dec.
Hydrocortisone 1% cream package insert. Melville, NY: E. Fougera & Co.; 2006 Jun.
Tri-Luma package insert. Sanford, FL: Hill Dermaceuticals, Inc.; 2013, Jan.
Compounding Pharmacy Statement
This preparation is compounded with drug components whose suppliers are registered with the FDA. While Galleria Medical Pharmacy adheres to USP <795> guidelines and applicable state and federal regulations to meet the required quality standards, the statements made regarding this preparation have not been evaluated by the FDA for safety or clinical effectiveness. As such, this preparation is not intended to diagnose, treat, cure, or prevent any disease. For inquiries concerning this preparation, please contact (504) 267-9876.