Hydroquinone / Tretinoin / Azelaic Acid / Kojic Acid Cream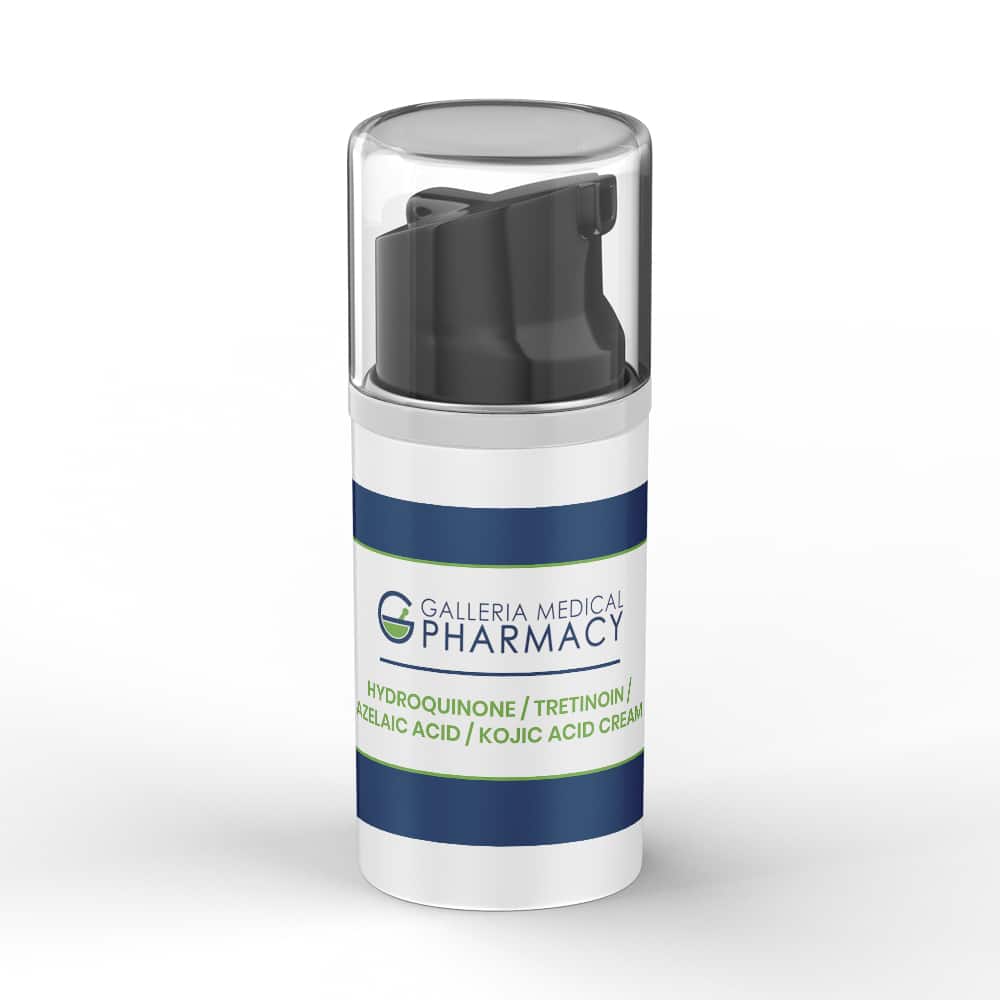 Overview
Hydroquinone / Tretinoin / Azelaic Acid / Kojic Acid Cream is a combination of prescription drug products that have been formulated into a cream to provide an intensive depigmentation effect to the area applied. This formulation is also known as our melasma mask and is a key component of the Melasma Kit. It is applied liberally to the area as a single-treatment mask and may be worn for several hours (depending on the skin type and as directed by a prescriber) before it is removed. Consideration should be taken in accordance with skin sensitivity, evolution of pigment, and professional experience in use of the preparation. Other products within the Melasma Kit may also be recommended by a prescriber to prevent the reappearance of spots and for enhanced long-term results.
How Supplied
Tri-Luma is a commercially available topical cream containing hydroquinone 4%, tretinoin 0.05%, and fluocinolone acetonide 0.01%.8 Patients that would benefit from the administration of alternative concentrations of hydroquinone and/or tretinoin as well as those that may need the addition of azelaic acid and kojic acid may opt for this compounded preparation as determined by a prescriber. Common formulations prepared at Galleria Medical Pharmacy include but are not limited to:
Hydroquinone 8% / Tretinoin 0.1% / Azelaic Acid 15% / Kojic Acid 4% Cream
Storage
Store this medication at 68°F to 77°F (20°C to 25°C) and away from heat, moisture and light. Keep all medicine out of the reach of children. Throw away any unused medicine after the beyond use date. Do not flush unused medications or pour down a sink or drain.
Reference
Nu-derm (hydroquinone) cream package insert. Long Beach, CA: OMP, Inc.; 2012 Sep.
Altreno (tretinoin lotion) package insert; Bridgewater, NJ: Valeant Pharmaceuticals North America LLC; 2018 Aug.
Renova 0.02% (tretinoin cream) package insert; Bridgewater, NJ: Valeant Pharmaceuticals North America LLC; 2013 Jun.
Fisher GJ, Wang Z, Datta SC, et al. Pathophysiology of premature skin aging induced by ultraviolet light. N Engl J Med 1997;337:1419-28.
Azelaic acid (Azelex) 20% Cream package insert. Irvine, CA: Allergan Inc.; 2003, Jun.
"Azelaic acid", Drug Bank.[Online]. Available: https://go.drugbank.com/drugs/DB00548
E. Frampton, A. J. Wagstaff, "Azelaic Acid 15% gel in the treatment of papulopustular rosacea", The American Journal of Clinical Dermatology, vol.5, issue 1, pp. 57 – 64, 2004.
Tri-Luma package insert. Sanford, FL: Hill Dermaceuticals, Inc.; 2013, Jan.
Compounding Pharmacy Statement
This preparation is compounded with drug components whose suppliers are registered with the FDA. While Galleria Medical Pharmacy adheres to USP <795> guidelines and applicable state and federal regulations to meet the required quality standards, the statements made regarding this preparation have not been evaluated by the FDA for safety or clinical effectiveness. As such, this preparation is not intended to diagnose, treat, cure, or prevent any disease. For inquiries concerning this preparation, please contact (504) 267-9876.