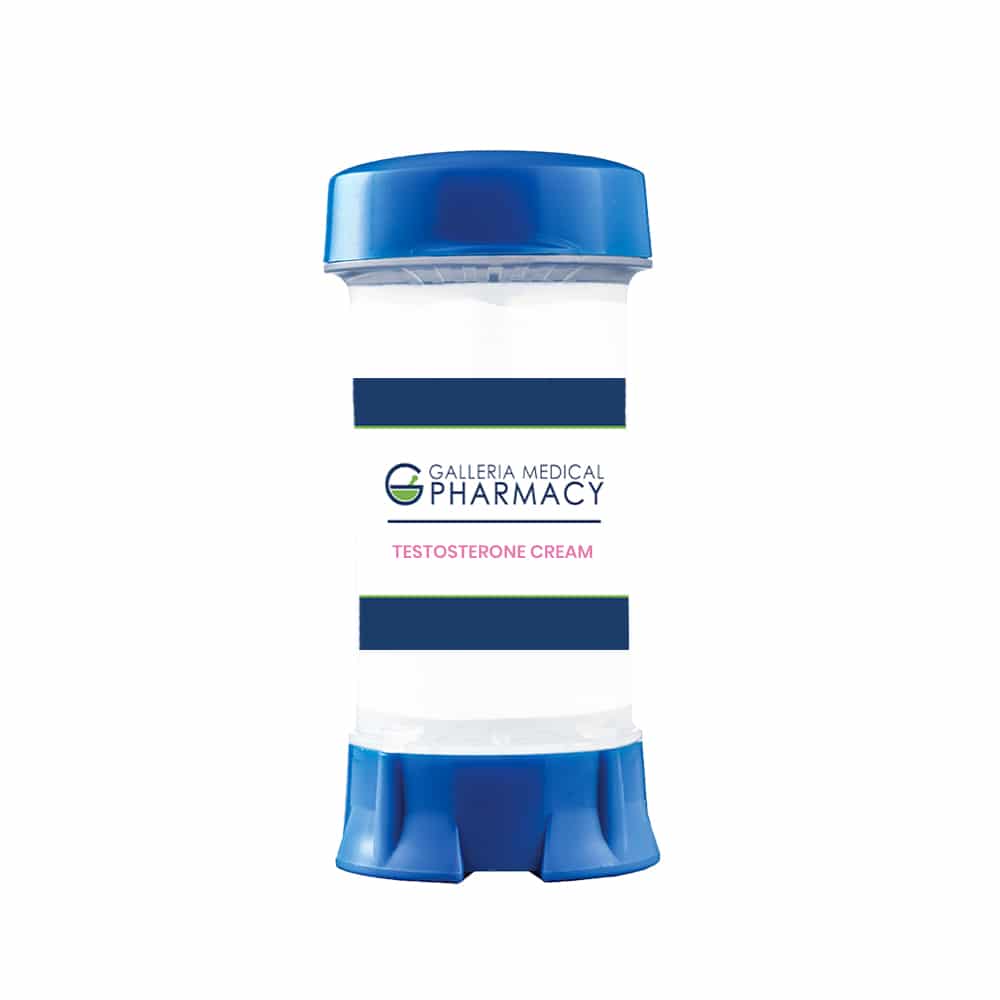 Overview
Testosterone is the primary androgen hormone found in the body. It is usually thought of as a male hormone, but women make and need it, too (although optimal levels of testosterone are much lower for women than they are for men). Testosterone is synthesized by cells in the testis, ovary, and adrenal cortex and can be metabolized into estrogen (estradiol and estrone) via the aromatase enzyme. Testosterone levels in both men and women have been found to decline with age.
Indications
Clinicians have treated women with testosterone for decades with the intention of alleviating a variety of symptoms, with uncertain benefits and risks. In most countries, testosterone therapy is prescribed off-label such that women are using either testosterone formulations approved for men with dose modification, or compounded therapies. Because of these issues, a position statement on testosterone therapy for women was developed based on the available evidence. The international panel concluded testosterone therapy demonstrates a moderate therapeutic effect for the treatment of hypoactive sexual desire disorder/dysfunction (HSDD) in women.1
How Supplied
Commercially-Available Testosterone Options
Testosterone was first approved for use in the U.S. in 1939. Today it is available commercially for men as a transdermal gel, topical solution, nasal gel, buccal system, and intramuscular injection to treat hypogonadism and delayed puberty.2-11
Compounded Progesterone Options
While testosterone is commercially available in various forms, the strengths and dosages are inappropriately high and are not FDA-approved for use in women. As such compounded testosterone cream may be an option for women that would benefit from a much lower strength as determined by a prescriber. Testosterone is commonly compounded into a cream as 2mg/mL or 4mg/mL strengths when prescribed for females, though other strengths and formulations may be prepared upon request. It is typically dispensed into a Topi-Click device for ease and flexibility in transdermal administration and usage.
Storage
Store this medication at 68°F to 77°F (20°C to 25°C) and away from heat, moisture and light. Keep all medicine out of the reach of children. Throw away any unused medicine after the beyond use date. Do not flush unused medications or pour down a sink or drain.
Reference
Davis SR, et al. "Global Consensus Position Statement on the Use of Testosterone Therapy for Women." The Journal of Clinical Endocrinology & Metabolism, Volume 104, Issue 10, October 2019, Pages 4660–4666.
Androderm® (testosterone transdermal system) package insert. Corona, CA: Watson Pharma, Inc.; 1999 Jan.
Androgel (testosterone gel) package insert. Marietta, GA: Solvay Pharmaceuticals, Inc.; 2012 Sept.
Fortesta (testosterone) gel, package insert. Chadds Ford, PA: Endo Pharmaceuticals Inc.; 2010 Dec.
Testosterone gel package insert. Malvern, PA: Auxilium Pharmaceuticals, Inc.; 2010 Apr.
Axiron (testosterone) topical solution, package insert. Indianapolis, IN: Lilly USA, LLC; 2011 Dec.
Natesto (testosterone) nasal gel package insert. Durants, Christ Church Barbados: Trimel BioPharma SRL; 2014 May.
Striant (testosterone buccal system) package insert. Livingston, NJ: Columbia Laboratories, Inc.; 2014 Mar.
DEPO-TESTOSTERONE (testosterone cypionate) injection, package insert. New York, NY: Pharmacia & Upjohn Co.; 2006 Sept.
DELATESTRYL (Testosterone Enanthate Injection, USP) package insert. Lexington, MA: Indevus Pharmaceuticals, Inc.; 2007 July.
Aveed (testosterone undecanoate Injection) package insert. Malvern, PA: Endo Pharmaceuticals Solutions Inc.; 2014 Mar.
Compounding Pharmacy Statement
Testosterone cream is compounded with drug components whose suppliers are registered with the FDA. While Galleria Medical Pharmacy adheres to USP <795> guidelines and applicable state and federal regulations to meet the required quality standards, the statements made regarding compounded testosterone cream have not been evaluated by the FDA for safety or clinical effectiveness. As such, this preparation is not intended to diagnose, treat, cure, or prevent any disease. For inquiries concerning this preparation, please contact (504) 267-9876.