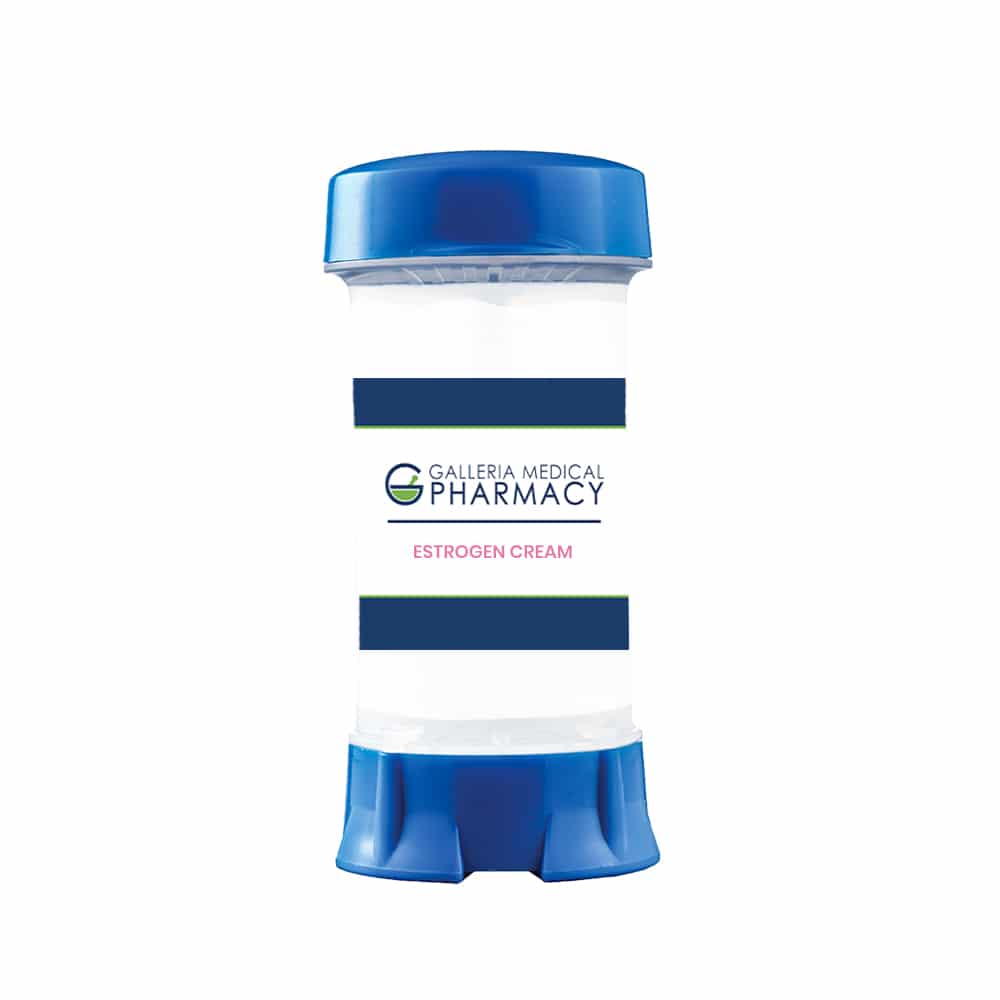 Overview
Estrogen has more than 400 functions and affects every cell of the body, including skin, hair, bone, heart, and brain cells. Classified as a steroid hormone, estrogen is mainly known for causing the body to develop female characteristics during puberty. It also balances the actions of the hormone progesterone. A woman's body makes three types of estrogen: estrone (E1), estradiol (E2), and estriol (E3). These estrogens are produced directly by the ovaries and indirectly by other tissues such as body fat. While a man's body also synthesizes a certain amount of estradiol, estrogen is understandably found in much larger amounts in women.
As a woman enters menopause, hormones such as estrogen are not produced in enough quantities which leads to menopausal symptoms including vaginal dryness, irregular periods, hot flashes, weight gain, night sweats, sleep disturbances, mood changes, acne, hair thinning, etc. After some time, low estrogen levels can result in more severe health complications such as heart disease, depression, and osteoporosis.
NOTABLE RESEARCH
Women's Health Initiative
In 2002, the US government National Institutes of Health conducted a landmark study known as the "Women's Health Initiative"(WHI). It compared the hormonal therapies Premarin® (0.625 mg) and Provera® (2.5 mg) with a placebo. The results showed that Premarin® and Provera®, when taken together, increased a woman's risk of heart disease, stroke, blood clots, colon and breast cancers, fracture, and death. Premarin® taken alone also promoted these risks, though not the incidence of breast cancer.1
The Bioidentical Hormone Debate
In 2009, Dr. Kent Holtorf compiled nearly 200 peer-reviewed papers describing the effectiveness and relative safety of bioidentical hormone therapy regimens (progesterone, estradiol, and estriol) versus synthetic hormone regimens (progestins and conjugated equine estrogens) for the treatment of menopause. After citing and analyzing various positive clinical outcomes of bioidentical hormone therapy, he concluded that bioidentical hormones are both safer and more effective than synthetic hormones and are the preferred method of hormone replacement therapy. Hundreds of studies (many European) support the conclusion that BHRT is a reasonable therapeutic option for the treatment and relief of the many conditions associated with menopause.2
Estradiol
Since the many discoveries from the WHI trial, there has been a push in the holistic medical community against prescribing conjugated equine estrogens (CEE) like Premarin and synthetic progestins like Provera for the treatment of menopausal symptoms. Pharmaceutical drug manufacturers have taken note of this and along with their own research and development have made available a wide variety of hormone replacement therapies containing estradiol, an estrogen identical in structure to one of the three estrogens produced endogenously by the human body.3-19
Estriol
Estriol is the principal estrogen in compounded estriol and Biest preparations and is perhaps the most controversial of the bioidentical hormones. Unlike estrone, estriol does not convert to estradiol, it binds weakly to estrogen receptors, and is rapidly excreted. Theoretically, these features make estriol safer than estradiol or estrone.20 Research has also shown that estriol selectively activates estrogen receptor-beta, which has an antiproliferative effect.2 Even large oral doses of estriol have not resulted in increased serum levels of estradiol, estrone, or their sulfated forms. Researchers have proposed that when combined with estradiol, estriol acts as an anti-estrogen and down-regulates the effects of stronger estrogens. However, clinical studies to support this finding are lacking and estriol cannot be considered completely without risk, given its demonstrated ability to stimulate endometrial growth.21 Nevertheless, there are several studies demonstrating the value of estriol for a variety of conditions.22
Oral vs. Transdermal Delivery of Estrogen
When hormones are released naturally by the body, they enter the bloodstream directly for distribution to tissues. In contrast, orally administered estrogens undergo significant first-pass metabolism by the liver, resulting in the formation of many undesirable metabolites. This is of particular concern with oral estrogens as some estrogen metabolites have been linked to increased incidence of hormone-related cancers. The following comparisons of transdermal estradiol to oral CEE have shown that transdermal estradiol has neutral or favorable cardiovascular effects compared to oral CEE.
Oral estradiol significantly suppresses levels of insulin-growth factor (IGF-1), whereas neither transdermal nor intranasal estradiol have any effect on IGF-1.23
Gallbladder disease risk is significantly lower for women taking transdermal estradiol compared to oral estradiol.24
Women taking oral estrogens show heightened platelet reactivity compared to women taking transdermal estrogens.25
Oral estradiol increases coagulability and inflammation as measured by serum CRP levels, whereas transdermal estradiol has no effect.26
Oral CEE significantly increases matrix metalloproteinase (MMP-9), which is linked to atherosclerotic plaque rupture. Conversely, transdermal estradiol does not affect MMP.27
Results from a French prospective cohort study of more than 80,000 women found that use of transdermal estrogens, alone or in combination with progesterone, did not cause an increased risk of thrombosis. The same study found that oral estrogens were associated with an increased risk of thrombosis.28
In summary, transdermal delivery of estrogens appears favorable for reducing the risk of inflammation and hypercoagulability and may also decrease cancer risk, but long-term studies are lacking.
Indications
Menopausal symptoms may be reduced or eliminated by supplementing with estrogen therapy. Estradiol has been used in clinical practice to prevent osteoporosis and relieve vasomotor and genitourinary symptoms associated with menopause (natural or surgical), for postmenopausal osteoporosis prevention, and is also used to treat female hypogonadism and other abnormalities of female gonadotropin dysfunction.
How Supplied
Commercially-Available Estradiol Options
Various estrogen products have been marketed in the U.S. since 1938. Estradiol is available commercially in many dosage forms, including oral tablets, transdermal systems, topical emulsions, topical gels, topical sprays, vaginal creams, vaginal rings, and parenteral depot injections. Vaginal therapies are preferred in postmenopausal women with exclusive genitourinary symptoms, due to lower systemic absorption/exposure with most of these dosage forms.29
Compounded Biest Options
Since estradiol is widely accessible in various commercially available forms, compounded biest is reserved for patients that would benefit from the concurrent administration of estriol and estradiol as determined by a prescriber. Biest is commonly compounded into a cream at an 80/20 or 50/50 estriol/estradiol ratio. It is typically dispensed into a Topi-Click device for ease and flexibility in transdermal administration and usage. Common formulations prepared at Galleria Medical Pharmacy include but are not limited to:
Biest (Estriol (E3)/Estradiol (E2)) 80/20 Cream
E3 1.6mg / E2 0.4mg / mL
E3 2mg / E2 0.5mg / mL
E3 4mg / E2 1mg / mL
Biest (Estriol (E3)/Estradiol (E2)) 50/50 Cream
E3 0.5mg / E2 0.5mg / mL
E3 1mg / E2 1mg / mL
E3 1.5mg / E2 1.5mg / mL
Storage
Store this medication at 68°F to 77°F (20°C to 25°C) and away from heat, moisture and light. Keep all medicine out of the reach of children. Throw away any unused medicine after the beyond use date. Do not flush unused medications or pour down a sink or drain.
Reference
Rossouw JE, Anderson GL, Prentice RL, et al. Risks and benefits of estrogen plus progestin in healthy postmenopausal women: principal results from the Women's Health Initiative randomized controlled trial. JAMA. 2002;288(3):321-333.
Holtorf K. The bioidentical hormone debate: are bioidentical hormones (estradiol, estriol, and progesterone) safer or more efficacious than commonly used synthetic versions in hormone replacement therapy? PostGrad Med. 2009;121(1):1-13.
Estrace (estradiol tablet) package insert. Irvine, CA; Allergan USA, Inc; 2016 Dec.
Vagifem (estradiol vaginal insert) package insert. Plainsboro, NJ: Novo Nordisk Inc.; 2017 Nov.
Elestrin (estradiol topical gel) package insert. Somerset, NJ: Meda Pharmaceuticals Inc; 2017 Nov.
Evamist (estradiol transdermal spray) package insert. Minneapolis, MN: Perrigo Pharmaceuticals; 2017 Nov.
Estrace cream (estradiol vaginal cream) package insert. Irvine, CA; Allergan USA, Inc; 2017 Nov.
Estring (estradiol vaginal ring) package insert. New York, NY: Pharmacia and Upjohn Co, division of Pfizer; 2017 Nov.
Femring (estradiol acetate vaginal ring) package insert. Irvine, CA: Allergan USA, Inc.; 2017 Nov.
Alora (estradiol transdermal system twice weekly) package insert. Irvine, CA: Allergan USA Inc.; 2017 Nov.
Climara (estradiol transdermal system weekly) package insert. Whippany NJ: Bayer HealthCare Pharmaceuticals; 2017 Aug.
Menostar (estradiol transdermal system) package insert. Whippany, NJ: Bayer Healthcare Pharmaceuticals, Inc.; 2017 Nov.
Estrogel (estradiol gel for topical use) package insert. Herndon, VA: ASCEND Therapeutics US, LLC; 2017 Nov.
Vivelle-Dot (estradiol transdermal system twice weekly) package insert. East Hanover, NJ: Novartis Pharmaceuticals Corporation; 2017 Nov.
Minivelle (estradiol transdermal system twice weekly) package insert. Miami, FL: Noven Pharmaceuticals Inc.; 2017 Nov.
Delestrogen (estradiol valerate in oil) injection package insert. Chestnut Ridge, NY; Par Pharmaceutical, Inc.: 2017 Nov.
Depo-Estradiol (estradiol cypionate injection 5 mg/mL) package insert. New York, NY: Pfizer: 2016 Nov.
Divigel (estradiol topical gel) package insert. Bridgewater, NJ: Vertical Pharmaceuticals, LLC; 2018 Aug.
Imvexxy (estradiol vaginal insert) package insert. Boca Raton, FL: TherapeuticsMD, Inc.; 2018 May.
Follingstad A. Estriol, the forgotten estrogen? JAMA. 1978;239(1):29-30.
Taylor M. Unconventional estrogens: Estriol, Biest and Triest. Clin Obstet Gyn. 2001;4(4):864-869.
Sicotte NL Liva SM, Klutch R, et al. Treatment of multiple sclerosis with the pregnancy hormone estriol. Ann Neurol. 2002;52(4):421-428.
Davis SR, Stuckey BG, Norman RJ, Papalia MA, Drillich A, Bell RJ. Effects of the route of estrogen administration on insulinlike growth factor-I, IGF binding protein-3, and insulin resistance in healthy postmenopausal women: results from a randomized, controlled study. Menopause. 2008;15(6):1065-1069.
Liu B, Beral V, Balkwill A, Green J, Sweetland S, Reeves G. Gallbladder disease and use of transdermal versus oral hormone replacement therapy in postmenopausal women: prospective cohort study. BMJ. 2008;10;337:a386.
Flaumenhaft R, Nachtigall M, Lowenstein J, Nachtigall L, Nachtigall R, Nachtigall L. Association of oral but not transdermal estrogen therapy with enhanced platelet reactivity in a subset of postmenopausal women. Menopause. 2009;16(2):407-412.
Vehkavaara S, Silveira A, Hakala-Ala-Pietilä T, et al. Effects of oral and transdermal estrogen replacement therapy on markers of coagulation, fibrinolysis, inflammation and serum lipids and lipoproteins in postmenopausal women. Thromb Haemost. 2001;85(4):619-625.
Chu MC, Cushman M, Solomon R, Lobo RA. Metabolic syndrome in postmenopausal women: the influence of oral or transdermal estradiol on inflammation and coagulation markers. Am J Obstet Gynecol. 2008;199(5):526.e1-7.
Canonico M, Fournier A, Carcaillon L, et al. Postmenopausal hormone therapy and risk of idiopathic venous thromboembolism. Arterioscler Thromb Vasc Biol. 2010;30:340-345.
The 2017 hormone therapy position statement of The North American Menopause Society. Menopause. 2017 Jun 22. [Epub aheadof print]
Compounding Pharmacy Statement
Estrogen cream is compounded with drug components whose suppliers are registered with the FDA. While Galleria Medical Pharmacy adheres to USP <795> guidelines and applicable state and federal regulations to meet the required quality standards, the statements made regarding compounded Biest cream have not been evaluated by the FDA for safety or clinical effectiveness. As such, this preparation is not intended to diagnose, treat, cure, or prevent any disease. For inquiries concerning this preparation, please contact (504) 267-9876.