Minoxidil / Azelaic Acid / Finasteride Solution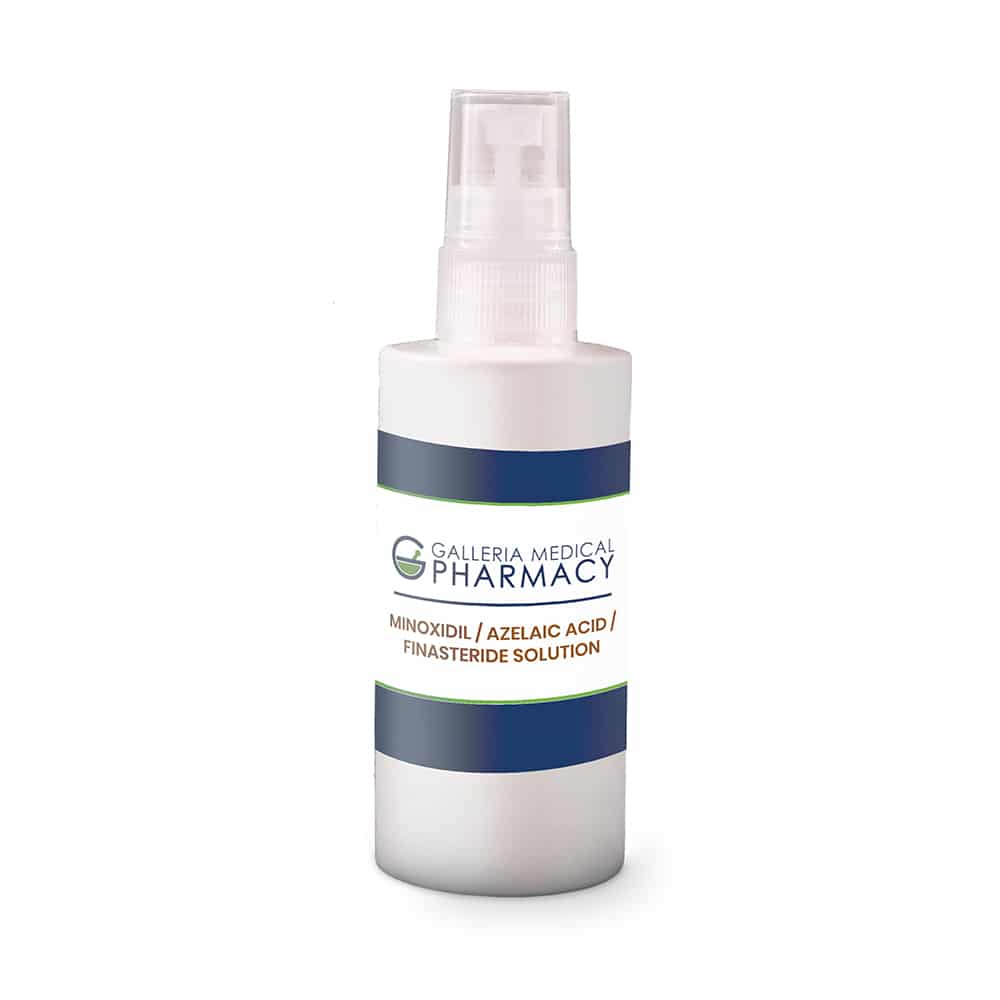 Overview
Minoxidil / Azelaic Acid / Finasteride Solution is a combination of drug products that have been formulated into a topical solution to address androgenetic alopecia (the most common type of hair loss, driven by genetics and hormonal changes). The active ingredients in this preparation work synergistically to counteract the effects of testosterone metabolism and allow the hair to regrow. The preparation is applied to the affected area twice daily and may take up to four months of therapy to see a response.
Minoxidil
What was once used as an oral medication to treat high blood pressure, minoxidil applied topically is widely used today to stimulate the regrowth of hair without systemic vasodilation effects.1 Its mechanism of action is unknown with regards to hair regrowth, but research suggests it decreases the latent period of the hair cycle (the time between shedding of telogen (resting) hair and the start of the next growth phase).2, 3 In other words, topical minoxidil may cause follicles in the telogen phase to shed, which are then replaced by thicker hairs in a new anagen (growth) phase.
Topical minoxidil is generally well tolerated and can be effective by itself if used during the early onset of alopecia. It is likely successful in promoting moderate hair growth in approximately 30% of men and 60% of women with androgenetic hair loss.4 Minoxidil is also known to stop the worsening of alopecia or provide mild hair growth.5
Azelaic Acid
In normal testosterone metabolism, the body uses the enzyme 5-alpha reductase to convert it into dihydrotestosterone (DHT). Long-term exposure to DHT has been shown to shrink and damage hair follicles. Since 5-Alpha reductase is found in the oil glands of hair follicles, it is believed that this pathway is a potential culprit in the progression of androgenetic alopecia. Researchers have found that by suppressing the production of DHT, hair follicle miniaturization can be slowed down or stopped if caught early enough.6, 7
Azelaic acid is a naturally occurring substance found in wheat, rye, and barley. It is also produced naturally by a certain fungus found on human skin. Azelaic acid was originally used topically in the management of acne vulgaris, rosacea and other inflammatory skin conditions.8, 9, 10 Since it is a competitive inhibitor of the 5-alpha reductase enzyme, researchers have found azelaic acid to also be effective against hair loss.11 It works by binding to 5-alpha reductase, preventing testosterone from docking. Since testosterone cannot bind to the enzyme, DHT cannot be produced.12, 13 It is generally well tolerated when applied topically, however, mild to moderate itching and dry skin are possible side effects of azelaic acid.
Finasteride
Finasteride is another 5-alpha reductase inhibitor found in this formulation. It works in a similar manner as azelaic acid, but is more powerful in its action. Finasteride was originally approved by the FDA to increase and maintain maximum urine flow rate in men suffering from benign prostatic hyperplasia (BPH), a common condition in men over 50.14 It was then approved as an oral treatment for mild to moderate male pattern baldness of the vertex and anterior mid-scalp area in men.15 Researchers have found that combining topical finasteride with topical minoxidil may produce better results as compared to topical minoxidil alone.16 Common side effects of taking oral forms of finasteride include low libido, erectile dysfunction, reduced ejaculatory volume, and gynecomastia.14, 15 Fortunately, it has been studied that topical finasteride, has a much lower systemic absorption than oral formulations and may not induce these adverse effects while still providing similar therapeutic outcomes as oral formulations.16, 17, 18
Indications
Minoxidil is indicated for the use of androgenetic alopecia.19 Finasteride is indicated for the use of BPH and male pattern hair loss in men.15
How Supplied
Minoxidil is widely available over-the-counter and formulated as a topical solution or foam to help regrow hair. Finasteride is available commercially as an oral tablet to treat BPH or androgenetic alopecia.
Several over-the-counter topical products contain 2% or 5% minoxidil, however patients that would benefit from the addition of azelaic acid and finasteride may be prescribed this compounded preparation as determined by a prescriber. The most popular formulation compounded at Galleria Medical Pharmacy is Minoxidil 5% / Azelaic Acid 12.5% / Finasteride 0.1% Solution, though other strengths and formulations may be available upon request.
Storage
Store this medication at 68°F to 77°F (20°C to 25°C) and away from heat, moisture and light. Keep all medicine out of the reach of children. Throw away any unused medicine after the beyond use date. Do not flush unused medications or pour down a sink or drain.
Reference
Elise A.OlsenM.D.,Madeline S.WeinerR.N., B.S.N. Topical minoxidil in male pattern baldness: Effects of discontinuation of treatment. Journal of the American Academy of Dermatology Volume 17, Issue 1, July 1987, Pages 97-101.
Buhl AE. Minoxidil's action in hair follicles. J Invest Dermatol 1991;96:73S-4S.
Messenger AG, Rundegren J. Minoxidil: mechanisms of action on hair growth. Br J Dermatol 2004;150:186-194.
DeVillez RL. The Therapeutic Use of Topical Minoxidil. Dermatol Clin 1990;8:367-74.
Olsen EA, Dunlap FE, Funicella T, et al. A randomized clinical trial of 5% topical minoxidil versus 2% topical minoxidil and placebo in the treatment of androgenetic alopecia in men. J Am Acad Dermatol 2002;47:377-85.
Jang S1, Lee Y, Hwang SL, Lee MH, Park SJ, Lee IH, Kang S, Roh SS, Seo YJ, Park JK, Lee JH, Kim CD. Establishment of type II 5alpha-reductase over-expressing cell line as an inhibitor screening model. J Steroid Biochem Mol Biol. 2007 Nov-Dec;107(3-5):245-52. Epub 2007 Jun 22.
Ustuner, Emin Tuncay. "Cause of Androgenic Alopecia: Crux of the Matter." Plastic and Reconstructive Surgery Global Open 1.7 (2013): e64. PMC. Web. 3 Oct. 2017.
Azelaic acid (Azelex) 20% Cream package insert. Irvine, CA: Allergan Inc.; 2003, Jun.
"Azelaic acid", Drug Bank.[Online]. Available: https://go.drugbank.com/drugs/DB00548
E. Frampton, A. J. Wagstaff, "Azelaic Acid 15% gel in the treatment of papulopustular rosacea", The American Journal of Clinical Dermatology, vol.5, issue 1, pp. 57 – 64, 2004.
Sasmaz S1, Arican O. Comparison of azelaic acid and anthralin for the therapy of patchy alopecia areata: a pilot study. Am J Clin Dermatol. 2005;6(6):403-6.
Passi S , Picardo M , De Luca C , Nazzaro-Porro M. Giornale Italiano di Dermatologia e Venereologia : Organo Ufficiale, Societa Italiana di Dermatologia e Sifilografia [01 Oct 1989, 124(10):455-463].
DUŠKOVÁ, H. POSPÍŠILOVÁ. The Role of Non-Aromatizable Testosterone Metabolite in Metabolic Pathways. Institute of Endocrinology, Prague, Czech Republic. Physiol. Res. 60: 253-261, 2011.
Proscar (finasteride) package insert. Whitehouse Station, NJ: Merck and Co.; 2014 Jan.
Propecia (finasteride) package insert. Whitehouse Station, NJ: Merck and Co.; 2010 Dec.
Tanglertsampan, Chuchai. J Med Assoc Thai. Efficacy and safety of 3% minoxidil versus combined 3% minoxidil / 0.1% finasteride in male pattern hair loss: a randomized, double-blind, comparative study. 2012 Oct;95(10):1312-6.
Caserini M, et al. A novel finasteride 0.25% topical solution for androgenetic alopecia: Pharmacokinetics and effects on plasma androgen levels in healthy male volunteers. International Journal of Clinical Pharmacology and Therapeutics. 2014 Jul;52(10).
Hajheydari Z, Akbari J, Saeedi M, Shokoohi L. Comparing the therapeutic effects of finasteride gel and tablet in treatment of the androgenetic alopecia. Indian J Dermatol Venereol Leprol 2009;75:47-51.
Rogaine 5% foam package insert. Morris Plains, NJ: Pfizer Consumer Healthcare; 2006 Jan.
Compounding Pharmacy Statement
This preparation is compounded with drug components whose suppliers are registered with the FDA. While Galleria Medical Pharmacy adheres to USP <795> guidelines and applicable state and federal regulations to meet the required quality standards, the statements made regarding this preparation have not been evaluated by the FDA for safety or clinical effectiveness. As such, this preparation is not intended to diagnose, treat, cure, or prevent any disease. For inquiries concerning this preparation, please contact (504) 267-9876.