Minoxidil / Hydrocortisone Solution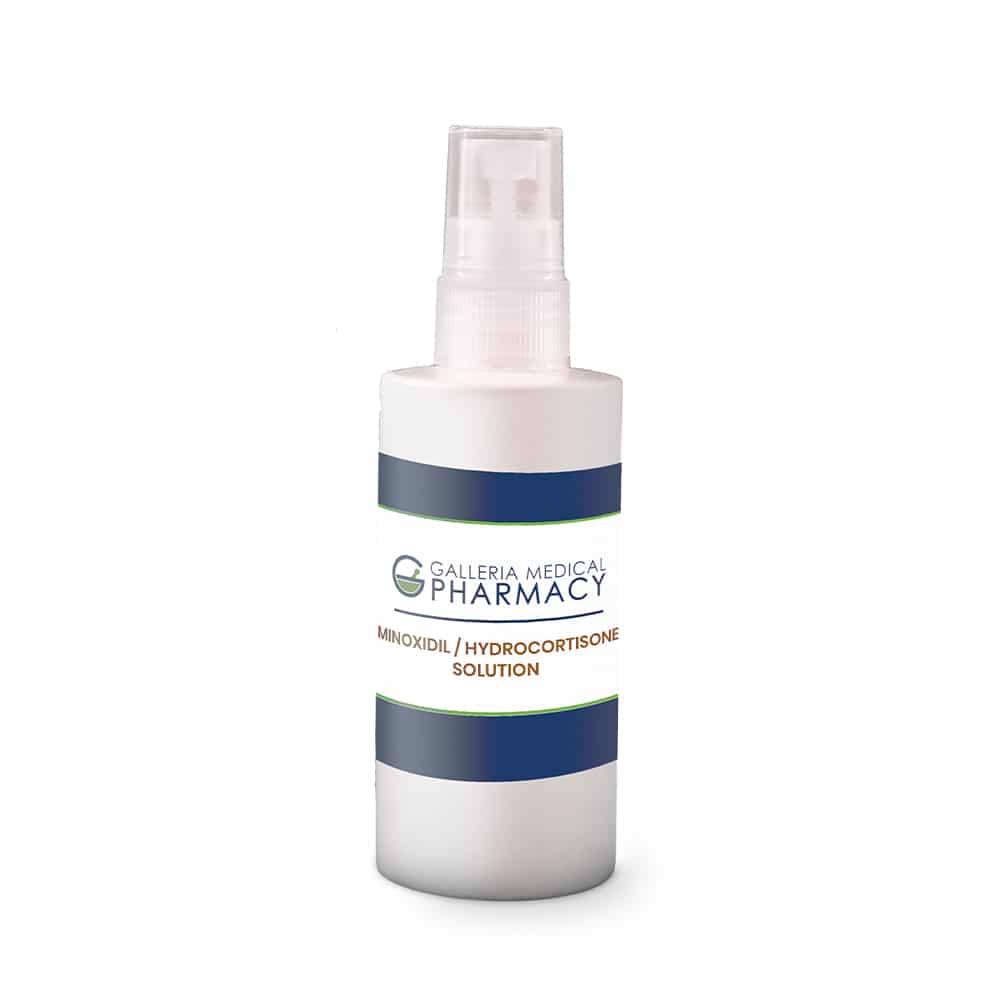 Overview
Minoxidil / Hydrocortisone Solution is a combination of drug products that have been formulated into a topical solution to address alopecia (hair loss) caused by an overactive immune system. The active ingredients in this preparation work synergistically to counteract the effects of the autoimmune response and to allow the hair to regrow. The preparation is applied to the affected area twice daily and may take up to four months of therapy to see a response.
Minoxidil
Minoxidil was originally approved by the FDA in 1979 as an oral vasodilator to treat high blood pressure. Interestingly, patients who used minoxidil for an extended period experienced a side benefit of hair growth in places where they had lost it previously. The use of oral minoxidil has since fallen out of favor due to its potency and adverse reactions. Topical minoxidil, however, is widely used today to stimulate the regrowth of hair.1 When applied directly to the scalp, it works by widening blood vessels to increase blood flow to hair follicles. This may cause follicles in the telogen (resting) phase to shed, which are then replaced by thicker hairs in a new anagen (growth) phase.
Topical minoxidil is generally well tolerated and can be effective by itself if used during the early onset of alopecia. Topical minoxidil is likely successful in promoting moderate hair growth in approximately 30% of men and 60% of women with androgenetic hair loss.2 Minoxidil is also known to stop the worsening of alopecia or provide mild hair growth.3
Hydrocortisone
Some types of hair loss are caused by an autoimmune response, where the body's immune system destroys healthy hair follicles. As such, alopecia areata, lichen planopilaris, and discoid lupus erythematosus are treated differently than androgen induced hair loss and may be alleviated with the use of corticosteroids. Corticosteroids block the production of certain chemical messengers (prostaglandins) that make the scalp red, swollen and itchy.
This formulation contains hydrocortisone, a naturally-occurring corticosteroid that exhibits anti-inflammatory and antipruritic effects. Topically, it soothes the skin and prevents irritation, decreases swelling, redness, and itching of the affected skin. However it may not be as beneficial for people with extensive hair loss. Topical hydrocortisone is considered low potency and is the safest for long-term topical use over other corticosteroids.4, 5
Indications
Minoxidil is indicated for the use of androgenetic alopecia,6 while hydrocortisone is indicated for the treatment of inflammation. Minoxidil has also been studied for the off-label treatment of alopecia areata.7
How Supplied
Minoxidil is widely available over-the-counter and formulated as a topical solution or foam to help regrow hair.
Several over-the-counter products contain 2% or 5% minoxidil, however patients that would benefit from the addition of hydrocortisone may be prescribed this compounded preparation as determined by a prescriber. The most popular formulation compounded at Galleria Medical Pharmacy is Minoxidil 5% / Hydrocortisone 1% Solution, though other strengths and formulations may be available upon request. For example, fluocinolone (a much more potent steroid) may be an alternative option to hydrocortisone in certain patients.
Storage
Store this medication at 68°F to 77°F (20°C to 25°C) and away from heat, moisture and light. Keep all medicine out of the reach of children. Throw away any unused medicine after the beyond use date. Do not flush unused medications or pour down a sink or drain.
Reference
Elise A.OlsenM.D.,Madeline S.WeinerR.N., B.S.N. Topical minoxidil in male pattern baldness: Effects of discontinuation of treatment. Journal of the American Academy of Dermatology Volume 17, Issue 1, July 1987, Pages 97-101.
DeVillez RL. The Therapeutic Use of Topical Minoxidil. Dermatol Clin 1990;8:367-74.
Olsen EA, Dunlap FE, Funicella T, et al. A randomized clinical trial of 5% topical minoxidil versus 2% topical minoxidil and placebo in the treatment of androgenetic alopecia in men. J Am Acad Dermatol 2002;47:377-85.
Hydrocortisone 2.5% cream and ointment package insert. Bronx, NY: Perrigo; 2012 Dec.
Hydrocortisone 1% cream package insert. Melville, NY: E. Fougera & Co.; 2006 Jun.
Rogaine 5% foam package insert. Morris Plains, NJ: Pfizer Consumer Healthcare; 2006 Jan.
Price VH. Double-blind, placebo-controlled evaluation of topical minoxidil in extensive alopecia areata. Clinical Trial. J Am Acad Dermatol. 1987.
Compounding Pharmacy Statement
This preparation is compounded with drug components whose suppliers are registered with the FDA. While Galleria Medical Pharmacy adheres to USP <795> guidelines and applicable state and federal regulations to meet the required quality standards, the statements made regarding this preparation have not been evaluated by the FDA for safety or clinical effectiveness. As such, this preparation is not intended to diagnose, treat, cure, or prevent any disease. For inquiries concerning this preparation, please contact (504) 267-9876.