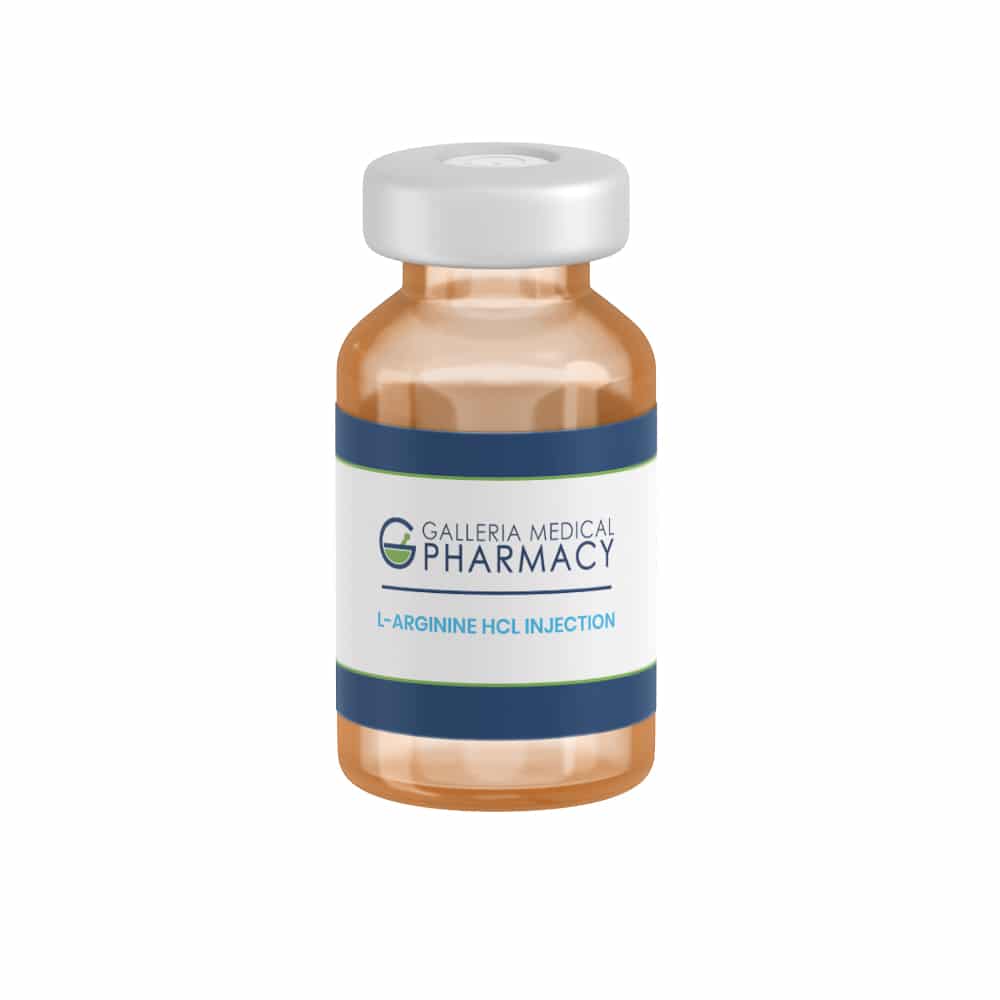 Overview
L-Arginine is an essential amino acid that exerts several actions on the body:
It stimulates the pituitary to release growth hormone.1
It prevents the excess breakdown of protein and subsequent increase in ammonia.2, 3, 4
It can produce hydrochloric acid when necessary to maintain optimal pH of the blood.5
It is a precursor to nitric oxide, which dilates arteries to lower blood pressure and also prevents the blood from thickening.6, 7
Indications
Since L-Arginine stimulates the release of growth hormone, it may be used clinically to the detect growth hormone deficiency in various conditions (e.g., panhypopituitarism, pituitary dwarfism, pituitary trauma, inadequate growth, etc.). The amino acid has also been used to evaluate pituitary function in gigantism and acromegaly.1 Patients with compromised pituitary function who are given arginine will show less of an increase (or no increase) in growth hormone levels.8
L-Arginine is also indicated for treating high ammonia concentrations in patients with carbamyl phosphate synthetase deficiency, ornithine transcarbamylase deficiency, argininosuccinate lyase deficiency, and argininosuccinate synthetase deficiency. These enzymes are a part of the urea cycle. If they are in short supply and if L-arginine is not available, protein breakdown and ammonia build-up occurs. Therefore L-arginine administration can ameliorate these side effects.2, 3, 4
Given L-Arginine's ability to produce hydrochloric acid, the amino acid is an alternative treatment for severe metabolic alkalosis.5
L-Arginine may also help those with cardiovascular disease improve exercise capacity because it is a precursor to nitric oxide, a vasodilator that also exerts antiplatelet action.1, 6, 7
How Supplied
L-Arginine is commercially available as a 100 mg/mL injectable prescription product.9 Patients that would benefit from its administration may be prescribed compounded L-Arginine Injection as determined by a health care provider when the FDA approved option is not commercially available or if larger doses are needed. The most popular formulation compounded at Galleria Medical Pharmacy is L-Arginine 200 mg/mL Injectable Solution, though other strengths and formulations may be available upon request.
For best results, L-Arginine Injection should be administered under professional supervision by a healthcare practitioner. As per FDA regulations, compounds prepared by a pharmacy are not intended for office use (e.g., office stock of a drug that is administered to multiple patients). As such, this preparation requires a prescription, which is then administered to the specified patient by a healthcare practitioner at their practice.
Storage
Store this medication at 68°F to 77°F (20°C to 25°C) and away from heat, moisture and light. Keep all medicine out of the reach of children. Throw away any unused medicine after the beyond use date. Do not flush unused medications or pour down a sink or drain.
Reference
Ceremuzynski L, Chamiec T, Herbaczynska-Cedro K. Effect of supplemental oral L-arginine on exercise capacity in patients with stable angina pectoris. Am J Card 1997;80:331-333.
Ammonul (sodium phenylacetate and sodium benzoate) injection package insert. Scottsdale, AZ: Ucyclyd Pharma Inc.; 2011 Jul
Summar M. Current strategies for the management of neonatal urea cycle disorders. J Pediatr 2001; 138: S30-S39.
Batshaw, ML, MacArthur RB, Tuchman M. Alternative pathway therapy for urea cycle disorders: twenty years later. J Pediatr 2001; 138:S46-S55
Adrogue HJ, Madias NE: Management of life-threatening acid-base disorders. Second of two parts. N Eng J Med 1998;338:107-11.
Bode-Boger SM, Boger RH, Galland A. L-arginine-induced vasodilation in healthy humans: pharmacokinetic-pharmacodynamic relationship. Br J Clin Pharmacol 1998; 46: 489-497.
Arginine hydrochloride injection (R-GENE) package insert. Lake Forest, IL: Hospira Inc.; 2010 Jan.
Tangphao O, Grossmann M, Chalon S, et al. Pharmacokinetics of intravenous and oral L-arginine in normal volunteers. Br J Clin Pharmacol 1999; 47: 261-266.
FDA: Arginine hydrochloride injection (marketed as R-Gene 10). FDA Drug Safety Newsletter 2009;2(2):16-18.
Compounding Pharmacy Statement
This preparation is compounded with drug components whose suppliers are registered with the FDA. While Galleria Medical Pharmacy adheres to USP <797> guidelines and applicable state and federal regulations to meet the required quality standards, the statements made regarding this preparation have not been evaluated by the FDA for safety or clinical effectiveness. As such, this preparation is not intended to diagnose, treat, cure, or prevent any disease. For inquiries concerning this preparation, please contact (504) 267-9876.