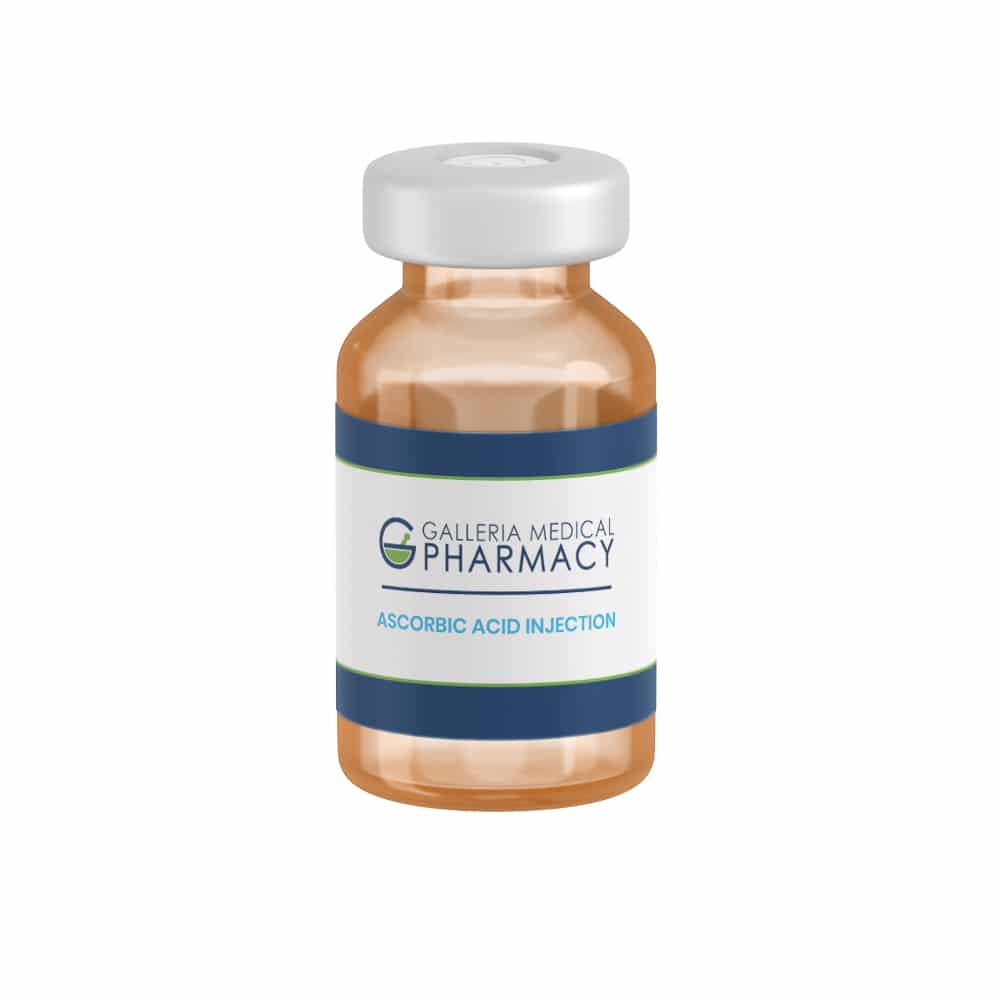 Overview
Ascorbic acid (also known as vitamin C) plays a central role in several crucial biochemical reactions in the body:
It is a prominent free radical scavenger (or antioxidant).
It is necessary for collagen formation (a central structural component of connective tissue, cartilage, skin, bone, etc.) and tissue repair.
It is required for corticosteroids, aldosterone, proteins, neuropeptides, serotonin, and carnitine production.
It helps convert cholesterol to bile acids (this facilitates digestion and absorption of lipids and regulates cholesterol balance).
It helps metabolize tyrosine, carbohydrates, norepinephrine, histamine, and phenylalanine.
It supports the maintenance of blood vessel integrity.
It facilitates cellular respiration.
It assists in the activation of white blood cells and interferons (signals sent by the body in response to a virus) and helps regulate the inflammatory process.
And many others.
Vitamin C is found naturally in high amounts in certain fruits and vegetables (e.g., citrus, green peppers, etc.). A lack of dietary intake of vitamin C reduces collagen production and the ability to repair tissue, which can lead to scurvy. Scurvy is a condition that is well-known to be prevented by the adequate dietary intake of vitamin C.
Evidence also suggests vitamin C supplementation may:
Prevent an overall increase in mortality;1, 2
Counteract coronary heart disease;3, 4
Control diabetes mellitus;5
Lower the risk of stroke;6
Manage atherosclerosis in concert with other antioxidants;7, 8, 9
Prevent osteoporosis;10
Lower the risk of Alzheimer's disease when taken with vitamin E;11and
Prevent cataracts.12
More research is needed, however, to assess the safety and efficacy of ascorbic acid supplementation as related to these disease states.
Indications
Injectable vitamin C indicated for the short-term treatment of scurvy in adult and pediatric patients age 5 months and older for whom oral administration is not possible, insufficient or contraindicated.
Ascorbic acid has also been used clinically as an add-on treatment of idiopathic methemoglobinemia13 and with deferoxamine in the treatment of chronic iron toxicity.14 Additionally, ascorbic acid has been used for a variety of disease states including the common cold, gum infections, acne, depression, fertility, and cancer,15 though these claims have not been proven and vitamin C is not formally recommended for these purposes.
How Supplied
Ascorbic acid was approved by the FDA in 1939 and is commercially available today as a 500 mg/mL injectable prescription product as well as a dietary supplement.16 Patients that would benefit from its injectable administration may be prescribed compounded Ascorbic Acid Injection as determined by a health care provider when the FDA approved option is not commercially available. The most popular formulation compounded at Galleria Medical Pharmacy is Ascorbic Acid 500 mg/mL Injectable Solution, though other strengths and formulations may be available upon request.
For best results, Ascorbic Acid Injection should be administered under professional supervision by a healthcare practitioner. As per FDA regulations, compounds prepared by a pharmacy are not intended for office use (e.g., office stock of a drug that is administered to multiple patients). As such, this preparation requires a prescription, which is then administered to the specified patient by a healthcare practitioner at their practice.
Storage
Ascorbic acid gradually darkens on exposure to light and air and is also rapidly oxidized by air. Store this medication at 68°F to 77°F (20°C to 25°C) and away from heat, moisture and light.
Keep all medicine out of the reach of children. Throw away any unused medicine after the beyond use date. Do not flush unused medications or pour down a sink or drain.
Reference
Simon JA, Hudes ES. Relation of serum ascorbic acid to serum lipids and lipoproteins in US adults. J Amer Clin Nutr 1998;17:250-5.
Simon JA, Hudes E, Tice JA. Relation of serum ascorbic acid to mortality among US adults. Am Coll Nutr 2001;20:255-63.
Simon JA, Hudes ES. Relation of serum ascorbic acid to serum lipids and lipoproteins in US adults. J Amer Clin Nutr 1998;17:250-5.
Osganian SK, Stampfer MJ, Rimm E, et al. Vitamin C and risk of coronary heart disease in women. J Am Coll Cardiol 2003;42:246-52.
Cunningham JJ. The glucose/insulin system and vitamin C: implications in insulin-dependent diabetes mellitus. J Am Coll Nutr 1998;17:105-8.
Yokoyama T, Chigusa D, Kokubo Y, et al. Serum vitamin C concentration was inversely associated with subsequent 20-year incidence of stroke in Japanese a rural community. The Shibata study. Stroke 2000;31:2287-94.
Carr A, Zhu BZ, Frei B. Potential antiatherogenic mechanism of ascorbate (vitamin C) and a-tocopherol (vitamin E). Circ Res 2000;87:349-54.
Jialal I, Fuller CJ. Effect of vitamin E, vitamin C, and beta-carotene on LDL oxidation and atherosclerosis. Can J Cardiol 1995;11SupplG:97-103.
Hodis HN, Mack WJ, LaBree L, et al. Serial coronary angiographic evidence that antioxidant vitamin intake reduces progression of coronary artery atherosclerosis. JAMA 1995;273:1849-54.
Leveille SG, LaCroix AZ, Koepsell TD, et al. Dietary vitamin C and bone mineral density in postmenopausal women in Washington State, USA. J Epidemiol Community Health 1997;51:479-85.
Zandi PP, Anthony JC, Khachaturian AS, et al. Reduced risk of alzheimer disease in user of antioxidant vitamin supplements. Arch Neurol 2004;61:82-8.
Jacques PF, Taylor A, Hankinson SE, et al. Long term vitamin C supplement use and prevalence of early age-related lens opacities. Amer J Clin Nutr 1997;66:911-6.
Rino, Pedro Bonifacio MD; Scolnik, Dennis MBChB; Fustiñana, Ana MD; Mitelpunkt, Alexis MD; Glatstein, Miguel MD Ascorbic Acid for the Treatment of Methemoglobinemia, American Journal of Therapeutics: July/August 2014 – Volume 21 – Issue 4 – p 240-243.
Desferal® (deferoxamine mesylate for injection USP) package insert. East Hanover, NJ: Novartis Pharmaceutical Corporation; 2008 Sept.
Sweetman SC (ed), Martindale: The Complete Drug Reference. London: Pharmaceutical Press (2009), p.1985.
Cenolate® (ascorbic acid, vitamin C injection) package insert. North Chicago, IL: Abbott Laboratories; 2002 Sept.
Compounding Pharmacy Statement
This preparation is compounded with drug components whose suppliers are registered with the FDA. While Galleria Medical Pharmacy adheres to USP <797> guidelines and applicable state and federal regulations to meet the required quality standards, the statements made regarding this preparation have not been evaluated by the FDA for safety or clinical effectiveness. As such, this preparation is not intended to diagnose, treat, cure, or prevent any disease. For inquiries concerning this preparation, please contact (504) 267-9876.