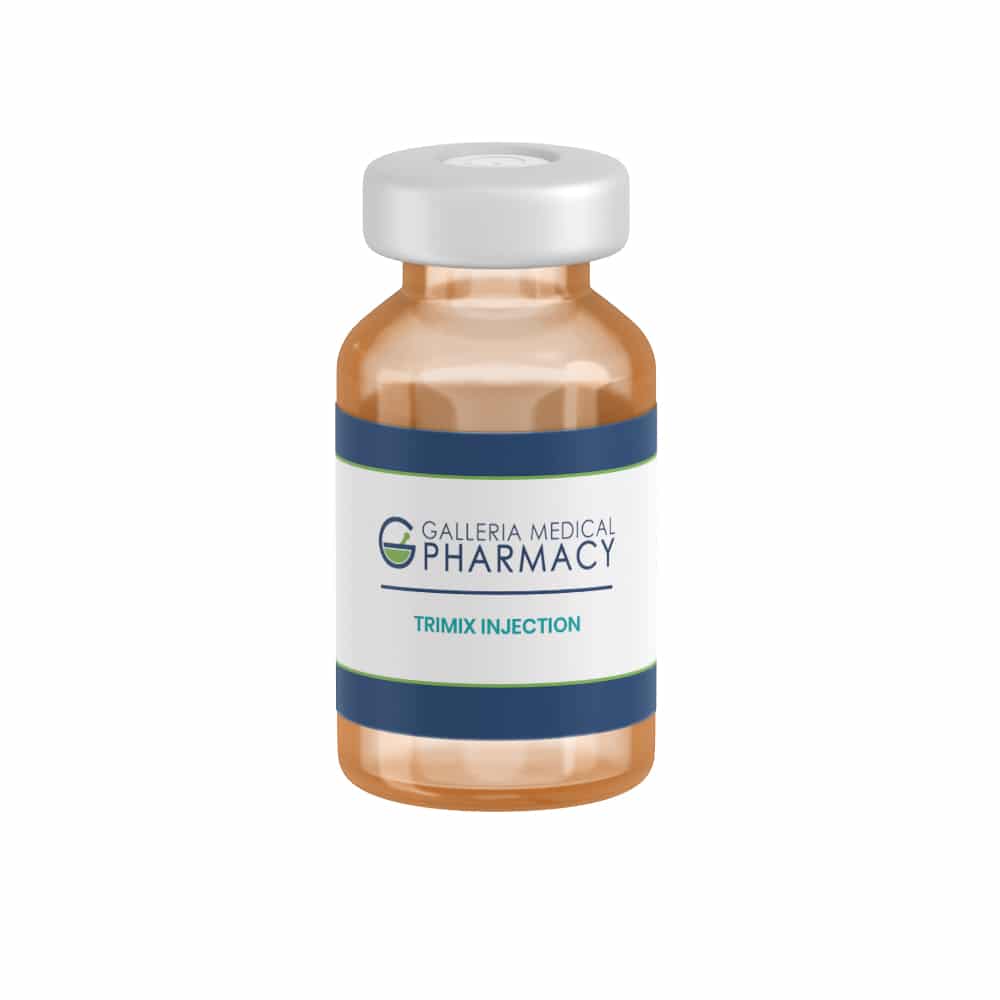 Overview
TriMix is an intracavernous injectable drug used as an alternative to oral PDE5 inhibitor tablets such as Viagra, Cialis, and Levitra. It is composed of Papaverine, Phentolamine, and Prostaglandin E1, which work together in different ways to treat erectile dysfunction.1 The American Urologic Association calls TriMix the most powerful non-surgical treatment of erectile dysfunction (ED). It is reported to have a 90% success rate as compared to a 60% success rate for men using oral PDE5 inhibitor medications. As such, TriMix is the treatment of choice for patients not responsive to oral PDE5 inhibitors.2
Papaverine
Papaverine is a vasodilator that causes blood vessels to expand. It was one of the first effective therapies for erectile dysfunction administered by penile injection.3 Papaverine works by increasing cyclic adenosine monophosphate (cAMP), which causes a relaxation of penile smooth muscle and an increase in blood flow to the area.4 Papaverine also works by inhibiting the phosphodiesterase enzyme.5 The multiple actions by which this drug works may be concentration dependent. Experimental data shows papaverine acts to relax the penile arteries, the cavernosal sinusoids, and the penile veins.6
Papaverine has been studied clinically in men suffering from erectile dysfunction. The drug has been administered as an intracavernosal injection containing between 30 mg and 60 mg. Several studies report positive findings such as its ability to obtain up to an 80% success rate in erection achievement within 20-30 minutes and to improve sexual potency. In summary, papaverine is an overall effective treatment of erectile dysfunction.7, 8, 9, 10
Phentolamine
Norepinephrine maintains smooth muscle tone of the penile tissues in a contracted state. One way an erection can be achieved is by blocking the alpha-adrenoreceptors in the local area to allow the tissues to relax. Phentolamine is an alpha-adrenoceptor antagonist and competes with norepinephrine at the alpha-adrenoreceptor. It induces an erection by relaxing and dilating the blood vessels of the penis and by increasing cardiac output.11, 12
Since phentolamine is cleared by the liver, its effectiveness in the treatment of erectile dysfunction is best administered by injection. Phentolamine is short-acting, reaching a maximum serum concentration within 20 to 30 minutes and acts for a duration between 2.5 to 4 hours.13, 14
Phentolamine is usually added with papaverine to increase erectile response.15, 16 Papaverine 30 mg and phentolamine 1 mg when combined in an intracavernosal injection has been studied clinically and has been found to produce an erection in 90% of the subjects within 20-30 minutes of administration.8 Side effects of phentolamine are rare however orthostatic hypotension, tachycardia, arrhythmias and myocardial infarction have occurred after penile injection.
Prostaglandin E1
Alprostadil is the naturally occurring prostaglandin E1 (PGE1). As a hormone-like substance, PGE1 exerts a variety of pharmacologic actions including its ability to promote systemic vasodilation, prevent platelet aggregation, and stimulate intestinal activity. It induces an erection by allowing for more blood into the penis and less blood out. It works by relaxing blood vessels, dilating cavernosal arteries, increasing arterial inflow velocity, and increasing venous outflow resistance.
When injected into penile tissue prostaglandin E1 is readily metabolized into other erectile promoting molecules. These molecules potentiate the efficacy of prostaglandin E1. It is believed prostaglandin E1 primarily acts directly by increasing cAMP to promote muscular relaxation.17 Prostaglandin E1 has also been shown to decrease the concentrations of noradrenalin.18
Prostaglandin E1 appears to be short-acting and is rapidly metabolized throughout the body upon systemic administration.19 As such, when given locally as a intracavernosal injection, the drug mainly acts on penile tissues and explains the rare propensity for circulatory side effects.
Prostaglandin E1 is administered intracavernosally and is prescribed as a second-line treatment for erectile dysfunction, after oral PDE5 inhibitors have been ineffective.20 Studies demonstrate that 40 to 70% of erectile dysfunction patients respond to treatment with prostaglandin E1. The cause for the failure response rate to prostaglandin E1 is unknown.21 Medications to activate alternative relaxant pathways in addition to prostaglandin E1 may be necessary in patients who fail to respond to prostaglandin E1 alone.
Indications
TriMix is indicated in the treatment of erectile dysfunction in males. TriMix may produce a clinical difference in men that fail oral PDE5 inhibitor drugs for the treatment of erectile dysfunction.
How Supplied
Compounded TriMix Options
At this time, TriMix is not commercially available and may be compounded as determined by a prescriber. Common formulations prepared at Galleria Medical Pharmacy include but are not limited to:
Papaverine HCl 30 mg/mL / Phentolamine Mesylate 1 mg/mL / Prostaglandin E1 10 mcg/mL 5 mL MDV
Papaverine HCl 30 mg/mL / Phentolamine Mesylate 2 mg/mL / Prostaglandin E1 20 mcg/mL 5 mL MDV
Storage
Store this medication at -13°F to 14°F (-25°C to -10°C) and away from heat, moisture and light. Keep all medicine out of the reach of children. Throw away any unused medicine after the beyond use date. Do not flush unused medications or pour down a sink or drain.
Reference
Leungwattanakij S, Flynn V, Hellstrom WJG. Intracavernosal injection and intraurethral therapy for erectile dysfunction. Urol Clin North Am 2001;28:343-354.
Montague DK, Jarow JP, Broderick GA, et al. Chapter 1: The management of erectile dysfunction: an AUA update. J Urol 2005;174:230-9.
Virag, R., et al., Vasoactive intestinal polypeptide release during penile erection in man. Lancet, 1982. 2(8308): p. 1166.
Andersson, K.E., Pharmacology of penile erection. Pharmacol Rev, 2001. 53(3): p. 417-50.
E., A., Pharmacology of erection: agents which initiate and terminate erection. Sex Disabil 1994. 12: p. 53–79.
Kirkeby, H.J., et al., [Infusion cavernosography and erectile dysfunction]. Ugeskr Laeger, 1990. 152(24): p. 1724-6.
Mooradian, A.D., et al., Biweekly intracavernous administration of papaverine for erectile dysfunction. West J Med, 1989. 151(5): p. 515-7.
Dinsmore, W.W., Medical treatment of impotence with papaverine and phentolamine intracavernosal injection. Ulster Med J, 1990. 59(2): p. 174-6.
Keogh, E.J., et al., Treatment of impotence by intrapenile injections of papaverine and phenoxybenzamine: a double blind, controlled trial. Aust N Z J Med, 1989. 19(2): p. 108-12.
Viswaroop, B., A. B, and G. Gopalakrishnan, Evaluating erectile dysfunction: oral sildenafil versus intracavernosal injection of papaverine. Natl Med J India, 2005. 18(6): p. 299-301.
Traish, A.M., et al., Expression of functional alpha2-adrenergic receptor subtypes in human corpus cavernosum and in cultured trabecular smooth muscle cells.Recept Signal Transduct, 1997. 7(1): p. 55-67.
Traish, A., et al., Phentolamine mesylate relaxes penile corpus cavernosum tissue by adrenergic and non-adrenergic mechanisms. Int J Impot Res, 1998. 10(4): p. 215-23.
R., I., G. B., and B.L. . Human pharmacology of orally administered phentolamine, in Phentolamine in Heart Failure and Other Cardiac Disorders., in Proceedings of an International Workshop London, November 1975 T. S.H. and G. L.A., Editors. 1975, Hans Huber Publishers: Bern, Switzerland.
O, H., W. U, and K. U, Systemic pharmacokinetics of papaverine and phentolamine: comparison of intravenous and intracavernous application. Int J Impot Res, 1990. 2 (Suppl 2): p. 247–248.
Eardley, I., et al., Pharmacotherapy for erectile dysfunction. J Sex Med, 2010. 7(1 Pt 2): p. 524-40.
Dinsmore, W.W. and M.G. Wyllie, Vasoactive intestinal polypeptide/phentolamine for intracavernosal injection in erectile dysfunction. BJU Int, 2008. 102(8): p. 933-7.
Palmer, L.S., et al., Characterization of cyclic AMP accumulation in cultured human corpus cavernosum smooth muscle cells. J Urol, 1994. 152(4): p. 1308-14.
Molderings, G.J., et al., Inhibition of noradrenaline release from the sympathetic nerves of the human saphenous vein by presynaptic histamine H3 receptors. Naunyn Schmiedebergs Arch Pharmacol, 1992. 346(1): p. 46-50.
Golub, M., et al., Metabolism of prostaglandins A1 and E1 in man. J Clin Invest, 1975. 56(6): p. 1404-10.
Albersen, M., et al., Evaluation and treatment of erectile dysfunction. Med Clin North Am, 2011. 95(1): p. 201-12.
Angulo, J., et al., Rationale for the combination of PGE(1) and S-nitroso-glutathione to induce relaxation of human penile smooth muscle. J Pharmacol Exp Ther, 2000. 295(2): p. 586-93.
Compounding Pharmacy Statement
TriMix injection is compounded with drug components whose suppliers are registered with the FDA. While Galleria Medical Pharmacy adheres to USP <797> guidelines and applicable state and federal regulations to meet the required quality standards, the statements made regarding compounded TriMix injection have not been evaluated by the FDA for safety or clinical effectiveness. As such, this preparation is not intended to diagnose, treat, cure, or prevent any disease. For inquiries concerning this preparation, please contact (504) 267-9876.