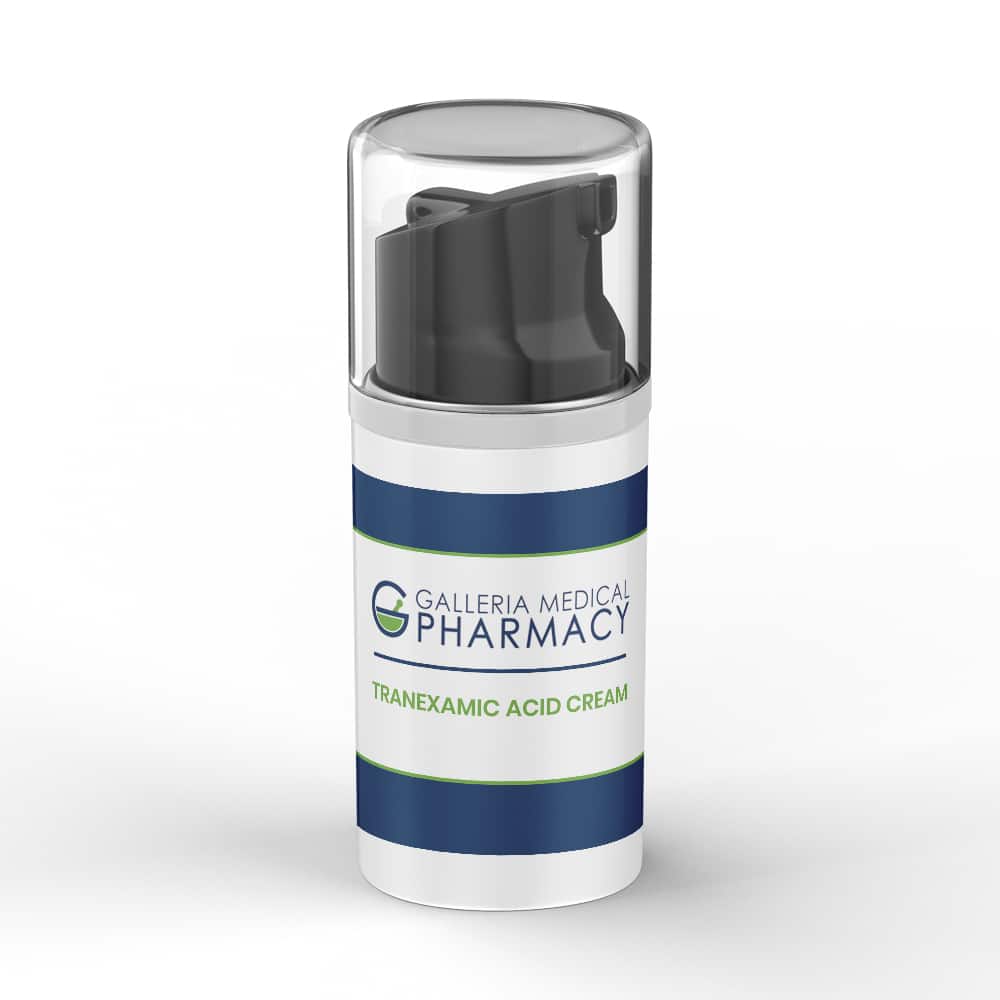 Overview
Exposure to UV radiation from the sun is the main trigger for melasma. Tranexamic acid when applied topically has been found to interrupt the process that causes melasma. It works by inhibiting plasminogen activation to help prevent UV-induced melasma flare-ups from happening in the first place.
Tranexamic acid is used traditionally in hospitals and dentistry for controlling blood loss. Since its systemic administration can increase the risk of thromboembolic events, tranexamic acid is contraindicated in patients with active thromboembolic disease or those with a history or intrinsic risk of thrombosis or thromboembolism. Topical administration of tranexamic acid is associated with less side effects since it is not systemically absorbed. Additionally, there may be less significant side effects from using tranexamic acid cream as compared to those containing hydroquinone. Hydroquinone is effective at reducing hyperpigmentation, however there is more inflammation associated with its use than with the use of tranexamic acid.1, 2
Indications
Studies have shown topically applied tranexamic acid is useful for the treatment of melasma.3, 4
How Supplied
At this time, this preparation is not commercially available in the United States as a topical product and must be compounded for patients that would benefit from its administration as determined by a prescriber. The most popular formulation compounded at Galleria Medical Pharmacy is Tranexamic Acid 3% Cream, though other strengths and formulations are also available upon request.
Storage
Store this medication at 68°F to 77°F (20°C to 25°C) and away from heat, moisture and light. Keep all medicine out of the reach of children. Throw away any unused medicine after the beyond use date. Do not flush unused medications or pour down a sink or drain.
Reference
Lysteda (tranexamic acid) package insert. Parsippany, NJ: Ferring Pharmaceuticals Inc.; 2016 Mar.
Tranexamic acid in sodium chloride injection package insert. Lenoir, NC: Exela Pharma Sciences, LLC; 2019 Apr.
Na JI, et al. Effect of tranexamic acid on melasma: a clinical trial with histological evaluation. J Eur Acad Dermatol Venereol. 2013 Aug;27(8):1035-9.
Ebrahimi B, Fatemi Naeini F. Topical tranexamic acid as a promising treatment for melasma. J Res Med Sci. 2014 Aug; 19(8): 753–757.
Compounding Pharmacy Statement
This preparation is compounded with drug components whose suppliers are registered with the FDA. While Galleria Medical Pharmacy adheres to USP <795> guidelines and applicable state and federal regulations to meet the required quality standards, the statements made regarding this preparation have not been evaluated by the FDA for safety or clinical effectiveness. As such, this preparation is not intended to diagnose, treat, cure, or prevent any disease. For inquiries concerning this preparation, please contact (504) 267-9876.