Levothyroxine (T4) / Liothyronine (T3) Capsules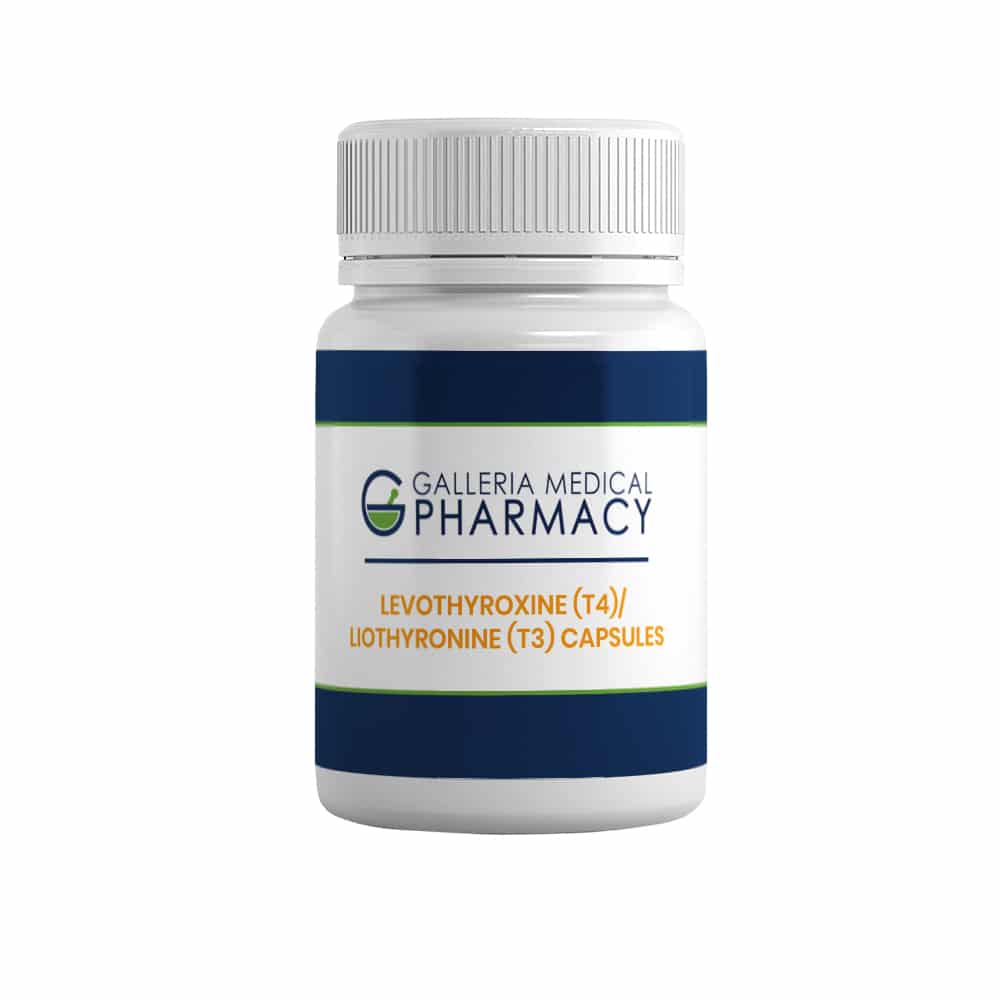 Overview
Levothyroxine (T4) / Liothyronine (T3) capsules are synthetic sodium salt forms of the endogenous T4 and T3 hormones. The preparation works as a replacement or supplement of the T4 and T3 hormones naturally produced by the body. Thyroid hormone supplementation increases the metabolic rate by boosting protein and carbohydrate metabolism, supporting gluconeogenesis, mobilizing glycogen stores, enhancing protein synthesis, and increasing the number and activity of mitochondria in most cells. In primary hypothyroidism, thyroid stimulating hormone (TSH) levels should correct when normal levels of thyroid hormone are established.
T4 is generally considered the most suitable of the thyroid replacement agents for long-term treatment of hypothyroidism. The rationale behind using T4 alone, is that the thyroid naturally only makes 20% of the body's T3 and the other 80% is made from T4 elsewhere in other tissues. So by restoring a patient's T4, T3 is thought to be readily produced throughout the body. However, it has been studied that patients who take T4 and T3 combination treatment may exhibit an improvement in mood and neuropsychological function as compared to patients who take T4 only treatment.12 It has also been found that about 15% of people with hypothyroidism have a difference in the gene responsible for the conversion of T4 to T3.13, 14 The result is that this group is not able to see enough of an increase in T3 levels even when T4 levels have increased with T4 monotherapy.15 Furthermore, T4 in this group will have a propensity to be converted to reverse T3 (rT3), which can further decrease thyroid function.
Caution should be exercised that pharmacological doses of thyroid hormones given to patients with normal thyroid function can result in the suppression of endogenous thyroid hormone secretion. It should also be noted that excessive thyroid levels may occur while taking oral liothyronine, which can be potentially more damaging to heart muscle than levothyroxine.
Indications
Levothyroxine and Liothyronine are each indicated for use as a replacement or supplemental therapy in the treatment of hypothyroidism; as a pituitary thyroid-stimulating hormone (TSH) suppressant in the treatment or prevention of various types of euthyroid goiters; and as diagnostic agents in thyroid suppression tests.
How Supplied
The most commonly prescribed treatment for hypothyroidism is levothyroxine sodium (a synthetic sodium salt stable form of T4).16 Liothyronine sodium is also commercially available in a synthetic sodium salt form.17 Porcine thyroid is a natural preparation derived from porcine thyroid glands and contains both T4 and T3.18 This drug has a history of supply issues and is recommended a patient or prescriber check its availability at the time of prescribing. Each of these options are immediate release tablets and are limited in their commercial availability of select strengths and combinations. An injectable form of T3 as well as an injectable form of T4 are also available but are each generally reserved for the treatment of myxedema coma/precoma.
Since levothyroxine and liothyronine are each already commercially available as oral tablets, compounded Levothyroxine / Liothyronine Capsules are reserved for patients that are allergic to the inactive ingredients found in FDA approved T4 and T3 drug products, for those that require a different dosage unit than what is widely available, and for those that would benefit from an oral formulation containing the excipient MethocelTM E4M as determined by a prescriber. Levothyroxine / Liothyronine Capsules are commonly compounded into the following strengths, though other strengths may be available upon request:
Levothyroxine 9.5 mcg / Liothyronine 2.25 mcg E4M Capsules
Levothyroxine 19 mcg / Liothyronine 4.5 mcg E4M Capsules
Levothyroxine 38 mcg / Liothyronine 9 mcg E4M Capsules
Levothyroxine 47.5 mcg / Liothyronine 11.25 mcg E4M Capsules
Levothyroxine 57 mcg / Liothyronine 13.5 mcg E4M Capsules
Levothyroxine 76 mcg / Liothyronine 18 mcg E4M Capsules85
Storage
Store this medication at 68°F to 77°F (20°C to 25°C) and away from heat, moisture and light. Keep all medicine out of the reach of children. Throw away any unused medicine after the beyond use date. Do not flush unused medications or pour down a sink or drain.
Reference
Longo D, et al. "341: Disorders of the Thyroid Gland". Harrison's Principles of Internal Medicine. (18th ed.). New York: McGraw-Hill.
DeRuiter J. "Thyroid Hormone: Thyroid Pathology." PYPP 5260-Endocrine Module. Auburn University. 2002.
Garber J, et al. "Clinical Practice Guidelines for Hypothyroidism in Adults". Thyroid. 2012;22(12):1200-35.
"Hypothyroidism." Hypothyroidism Patient Brochure. American Thyroid Association. 2014.
Zhang J, Lazar M. "The Mechanism of action of Thyroid Hormones." Annual Review of Physiology." 2000;62:439-66.
Kahaly G, Dilmann W. "Thyroid Hormone Action in the Heart." Endocrine Reviews. Jul 1 2013;26(5):704-728.
Fazio S et al. "Effects of Thyroid Hormone on the Cardiovascular System." Recent Progress in Hormone Research. 2004;59:31-50.
Shin D, Osborne TF. "Thyroid Hormone Regulation and Cholesterol Metabolism Are Connected through Sterol Regulatory Element-binding Protein-2 (SREBP-2)." The Journal of Biological Chemistry. 2003;278:1-5.
Lowrance J. Cardiac Effects of Hypothyroidism and Hyperthyroidism: Heart Problems caused by Thyroid Disease. Self-published eBook. 2014.
Tan Z, Vasan R. "Thyroid Function and Alzheimer's Disease." Journal of Alzheimer's Disease. 2009;16:503-507.
"Kapaki E et al. "Thyroid function in patients with Alzheimer's disease treated with cholinesterase inhibitors." ACTA Neurobiologiae Experimentalis. 2003;63:389-392.
Bunevicius R, Kazanavicius G. Effects of thyroxine as compared with thyroxine plus triiodothyronine in patients with hypothyroidism. N Engl J Med Gericke KR. Possible interaction between warfarin and fluconazole. Pharmacotherapy 1993;13:508—9.9;340:424-9.
"DIO2." Hugo Gene Nomenclature Committee. EMBL-EBI.
"DIO2 deiodinase, iodothyronine, type II [Homo sapiens (human)]." Genes & Gene Expression Database, National Center for Biotechnology Information. U.S. National Library of Medicine. Bethesda, MD.
Friedman, Theodore, MD Ph.D. "The 15% Rule of Who Should Get T4/T3 Combination." www.goodhormonehealth.com. Good Hormone Health. 2001.
Professional Guide to Drugs-A Reference for Doctors, Nurses, Dentists, Pharmacists-Anyone Who Prescribes, Administers, or Takes Medicines. Cal State Long Beach Library: Intermed Communications Books. 1982. P. 592.
"Liothyronine-Description." Clinical Pharmacology. 2013 Aug 23. Web.
Armour Thyroid package insert. St. Louis, MO: Forest Pharmaceuticals Inc.; 2012 Aug.
Compounding Pharmacy Statement
This preparation is compounded with drug components whose suppliers are registered with the FDA. While Galleria Medical Pharmacy adheres to USP <795> guidelines and applicable state and federal regulations to meet the required quality standards, the statements made regarding this preparation have not been evaluated by the FDA for safety or clinical effectiveness. As such, this preparation is not intended to diagnose, treat, cure, or prevent any disease. For inquiries concerning this preparation, please contact (504) 267-9876.