Anastrozole with Finasteride Capsules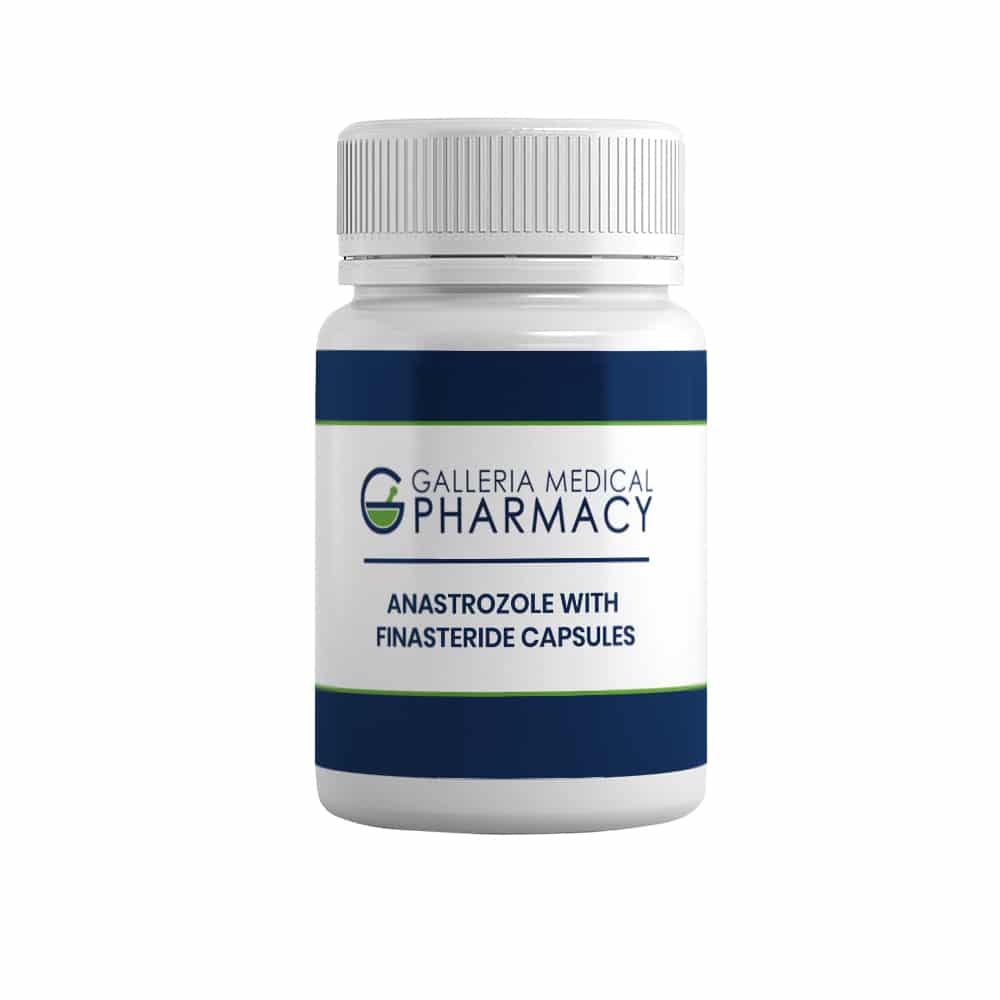 Overview
Aromatase is the enzyme in the body responsible for the conversion of testosterone to estrogen. Anastrozole is a highly potent and specific aromatase enzyme inhibitor. It significantly increases testosterone levels by suppressing serum estradiol levels and increasing gonadotropin levels. Aromatase inhibitors are considered to be a standard of therapy and drug class of choice for the treatment of early breast cancer in postmenopausal women with hormone-receptor positive disease.1 Given its unique effects on testosterone and estrogen levels, anastrozole has also been used off-label for the treatment of male hypogonadism. It has been studied that men taking testosterone replacement therapy maintain therapeutic levels of testosterone longer and experience less gonadotropin suppression when anastrozole is part of the therapeutic regimen.2
One benefit of anastrozole over earlier generation aromatase inhibitors is that it does not inhibit adrenal steroid synthesis. This means patients taking anastrozole do not require glucocorticoid or mineralocorticoid replacement therapy.1
FINASTERIDE OVERVIEW
While testosterone is converted to estradiol via the aromatase enzyme, it may alternatively be converted to dihydrotestosterone (DHT) by way of the 5-alpha-reductase enzyme. DHT is an androgen that is much more potent than testosterone. Its excess has been implicated in the progression of androgenic alopecia (aka male pattern baldness) and benign prostatic hyperplasia (BPH) (or enlarged prostate).
Finasteride is a competitive type II 5-alpha-reductase enzyme inhibitor. The type II 5-alpha-reductase isozyme is primarily found in prostate, seminal vesicles, epididymides, hair follicles, and liver. Since finasteride inhibits the conversion of testosterone to DHT in the prostate, prostate hypertrophy is reduced and urine flow improves. In male pattern baldness, the use of finasteride decreases scalp and serum DHT concentrations, and interrupts the development of the condition in those patients genetically predisposed. Finasteride does not appear to affect circulating concentrations of cortisol, estradiol, prolactin, thyroid-stimulating hormone, thyroxine or cholesterol. Research to date also suggests that finasteride does not affect the hypothalamic-pituitary-testicular-axis.
Indications
Anastrozole is commonly indicated for the first-line treatment of postmenopausal women with hormone receptor-positive or hormone receptor unknown locally advanced or metastatic breast cancer. It is an adjunct therapy in the treatment of postmenopausal women with early breast cancer.3 It is also used as an off-label treatment of excessive estrogen production in men.2
Finasteride is indicated for the treatment of symptomatic BPH in men with an enlarged prostate and for male pattern hair loss in patients with mild to moderate hair loss of the vertex and anterior mid-scalp.
How Supplied
Commercially-Available Anastrozole Options
Anastrozole was first approved for human use in the U.S. in 1995 for the treatment of advanced breast cancer in postmenopausal women whose disease has progressed during tamoxifen therapy. Today, anastrozole is available commercially as a 1 mg oral tablet. Clinical effects can be very substantial at this dosage.3
Commercially-Available Finasteride Options
Finasteride was first approved for human use in the U.S. in 1992 for BPH. In 1997, it received approval for the treatment of male pattern baldness. Today, finasteride is available commercially as 1 mg and 5 mg oral tablets.4, 5
Compounded Anastrozole / Finasteride Options
Since anastrozole and finasteride are each already commercially available as separate oral tablets, compounded anastrozole / finasteride capsules are reserved for patients that would benefit from their combined therapies and for those that require a unique dosage than what is FDA approved as determined by a prescriber. The most common formulation prepared at Galleria Medical Pharmacy is Anastrozole 0.25 mg / Finasteride 0.5 mg capsules, though other strengths and formulations are available upon request.
Storage
Store this medication at 68°F to 77°F (20°C to 25°C) and away from heat, moisture and light. Keep all medicine out of the reach of children. Throw away any unused medicine after the beyond use date. Do not flush unused medications or pour down a sink or drain.
Reference
Winer EP, Hudis C, Burnstein HJ, et al. American Society of Clinical Oncology technology assessment on the use of aromatase inhibitors as adjuvant therapy for postmenopausal women with hormone receptor-positive breast cancer: status report 2004. J Clin On
Coadministration of anastrozole sustains therapeutic testosterone levels in hypogonadal men undergoing testosterone pellet insertion. J Sex Med. 2014 Jan;11(1):254-61.
Arimidex (anastrozole) package insert. Wilmington DE: AstraZeneca Pharmaceuticals LP; 2013 May.
Proscar (finasteride) package insert. Whitehouse Station, NJ: Merck and Co.; 2014 Jan.
Propecia (finasteride) package insert. Whitehouse Station, NJ: Merck and Co., INC.; 2013 Sept.
Compounding Pharmacy Statement
Anastrozole / finasteride capsules are compounded with drug components whose suppliers are registered with the FDA. While Galleria Medical Pharmacy adheres to USP <795> guidelines and applicable state and federal regulations to meet the required quality standards, the statements made regarding compounded anastrozole / finasteride capsules have not been evaluated by the FDA for safety or clinical effectiveness. As such, this preparation is not intended to diagnose, treat, cure, or prevent any disease. For inquiries concerning this preparation, please contact (504) 267-9876.